Northern Arizona Loop, September 6-11, 2005
I've lived in Arizona for five years, but I had never seen the Grand Canyon ... until now. When a job change left me with almost one week of unscheduled time (!), Dennis and I decided it was time to head north.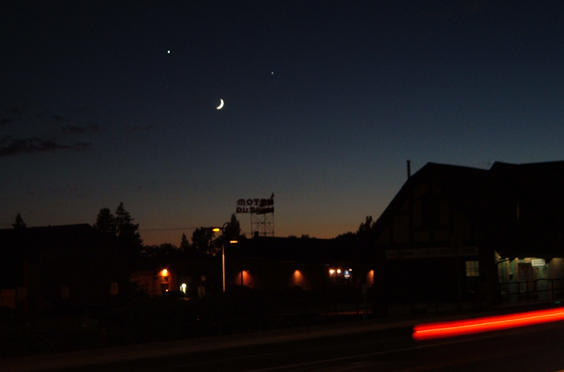 Our first stop was Flagstaff. Home to the famous Lowell Observatory, Flag became the first international dark skies city in 1996. The subdued light made for great viewing of the Moon, Venus and Jupiter even from a busy city street.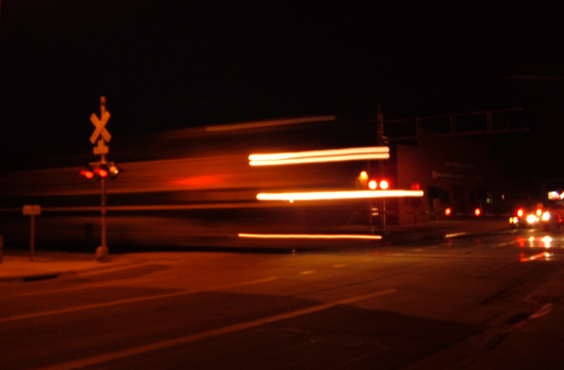 Flagstaff is also a major transportation hub. Santa Fe Avenue, which was once Route 66, runs alongside the Santa Fe Railroad.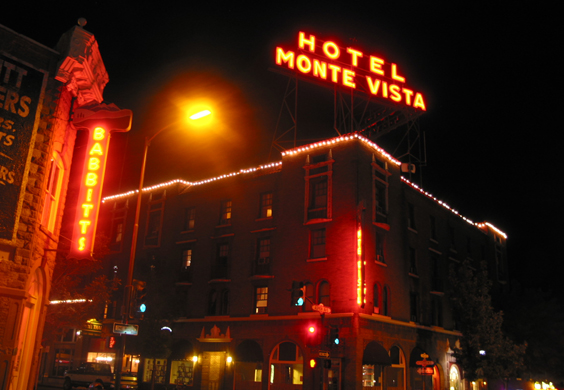 Trains and all, the best place to stay is the historic Hotel Monte Vista.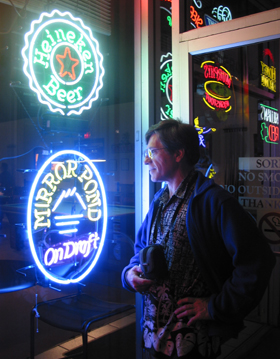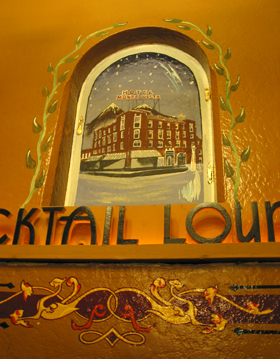 The price is right, the decor is a kick, and there are tons of great shops and restaurants within walking distance.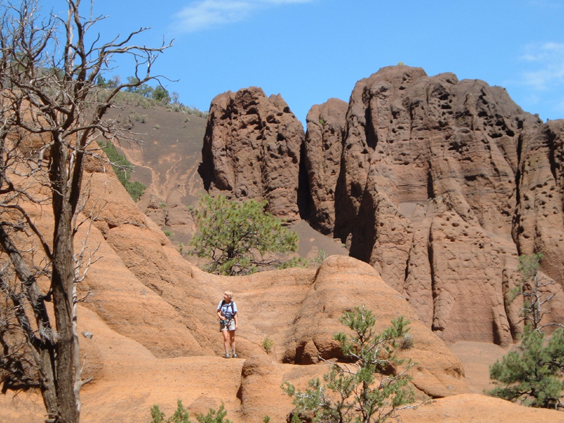 Our 18-page, over-researched itinerary included a number of short hikes beginning with Red Mountain, 33 miles north of Flagstaff on Route 180.
Red Mountain is a volcanic cinder cone that rises 1,000 feet above the surrounding landscape. The unusual U-shaped cone, open to the west, has a large natural amphitheater cut into its northeast flank. Numerous "hoodoos" decorate the amphitheater.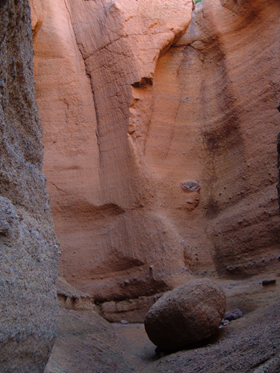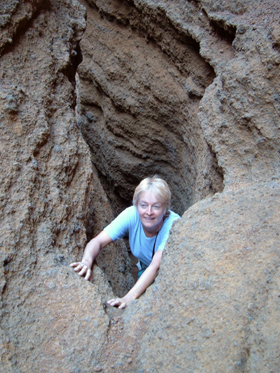 With more time, we'd explore some of the large crevasses which probably provide access to the sweeping red sandstone plains above the crater floor.
North of Flagstaff the horizon falls away and deep forest fades to high desert dotted with pinon, juniper and sage. Eventually even the small trees disappear and all that remains is a bleak plain sloping toward an enormous void.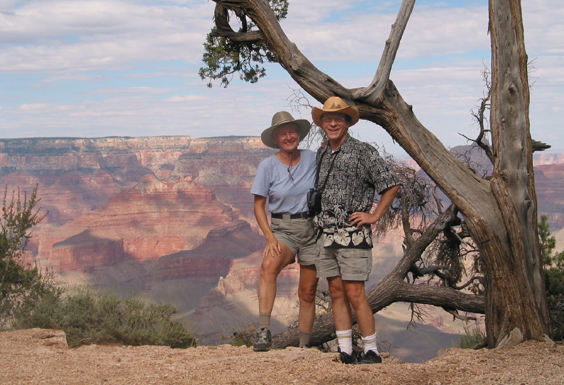 We made the obligatory stop at El Tovar, but quickly departed in favor of an isolated hiking trail that would let us experience the Grand Canyon on our own terms.
An unsigned trailhead east of Yaki Point provides nearly tourist-free access to the rim. From here, we could contemplate the canyon in all its enormous, impossible depth and silence.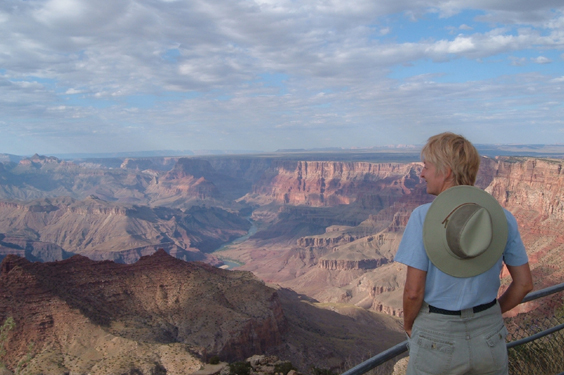 We set up camp at Desert View, then backtracked to the tower to watch the sun set.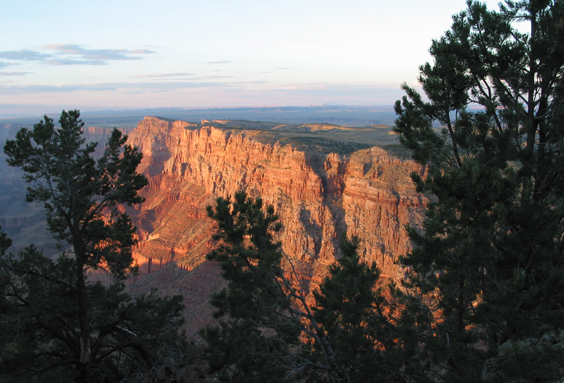 Long after we had turned in for the night, a huge RV pulled up and turned on a noisy generator. It had just run out of gas when a lonely coyote pup came looking for his buddies. He sidled up to the RV and filled the canyon with his pitiful and plaintive song. Coyote knows how to even the score.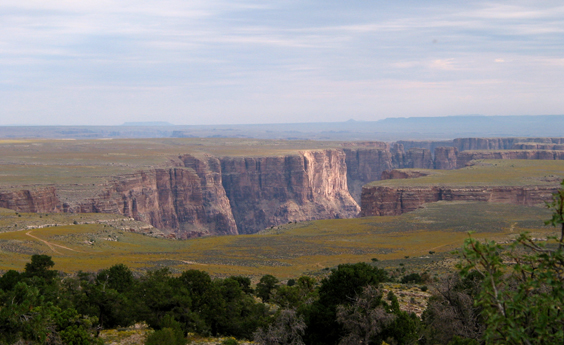 Nothing rivals the Grand Canyon for drama, but the wild country east of the canyon is where I would return on a second trip. This flower-carpeted plain riddled with steep-sided canyons begs for a mountain biking/camping expedition.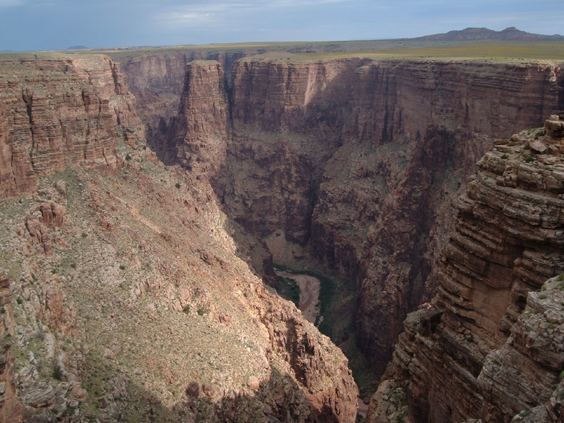 The play of sunlight and cloud on the Little Colorado River gorge west of Cameron.
I don't want to know how Dennis took this photo, but it's a dandy!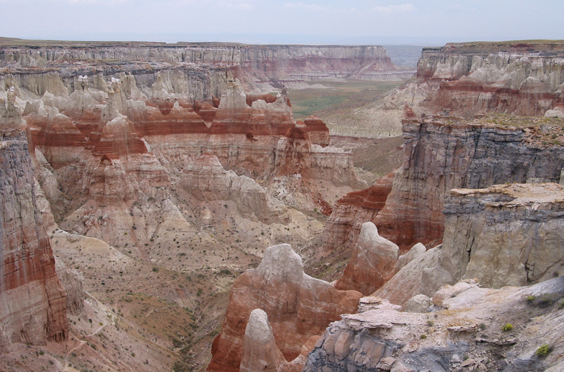 Of all the many stunning canyons we would visit on this trip, the most remarkable was Coal Mine Canyon. Hidden at the end of an unsigned dirt road southeast of Tuba City, the canyon is a striking combination of red mudstone, bleached white rock and coal streaks. A visit to the canyon requires a permit from the Navajo Nation, but the Visitor Center in Cameron was closed, and the Trading Post staff was clueless. It may take a bit of detective work, but I definitely want to hike this canyon on my next trip north.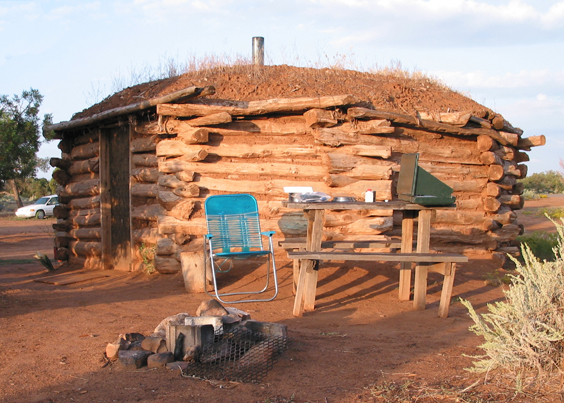 Torrential rains cut short our visit to Hopi Country, and we retreated to Spider Rock Campground east of Chinle.
The campground has no electricity or running water, but it does include a traditional Navajo hogan. For the next two days, this cozy, eight-sided, sweet-smelling earth and timber shelter provided a dry and comfortable place to sleep, read, write, and prepare meals.According to legend, the first hogan was built by Coyote, who got logs and instructions from the Beaver People. A few sticks of firewood provide a night of warmth, but first you must bargain with Coyote. In this case, the price was Dennis' collection of maps of California. All other paper refused to burn. This means Dennis is back home in Arizona to stay!
Morning provided our first good look at Canyon de Chelly, as gentle and green and beckoning as the Grand Canyon was stark and bare and foreboding. The canyon has two long arms. Canyon del Muertos is the dry north arm, and Canyon de Chelly is the much longer and well-watered south arm.
At the head of the main canyon is Spider Rock, an 800-foot-high sandstone pillar. According to Navajo tradition, the top of Spider Rock is home to Spider Woman, who taught the Dine (Navajo) how to weave on a loom. After investigating the cost of jeep tours (minimum $45 each for a half-day tour on a crowded flat-bed truck), and especially after gauging the girth of our potential fellow passengers, we opted to explore the canyon on foot.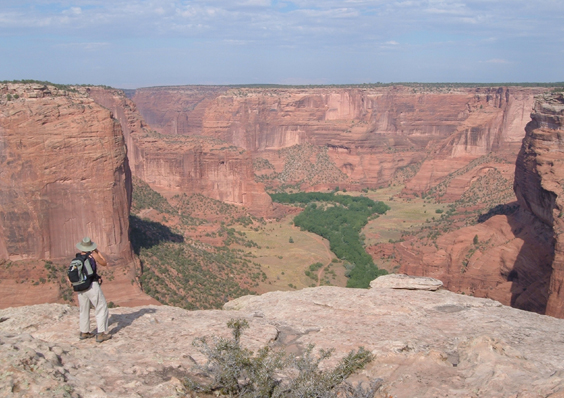 Our first hike was from the overlook to White House Ruins, the only hike permitted without a Navajo guide. My guidebooks dismissed this as a fallback if you couldn't locate a guide for a longer hike, but we loved the White House Ruins trail! It didn't hurt that it was a rain-washed, crisp-and-clear 80-degree day.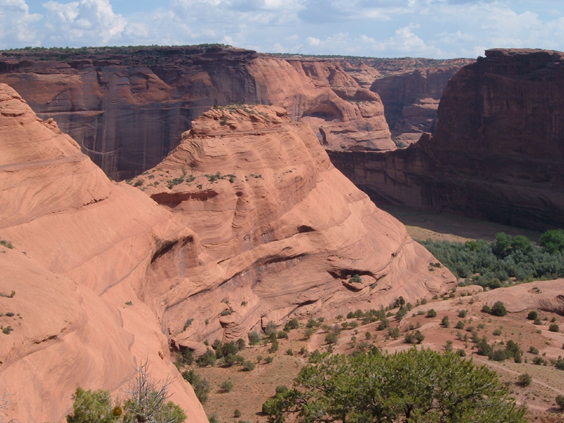 The trail switchbacks 600 feet to the canyon floor, sometimes wrapping around ledges, sometimes passing through ancient downspouts. Time has sculpted the red sandstone into huge cinnamon swirls.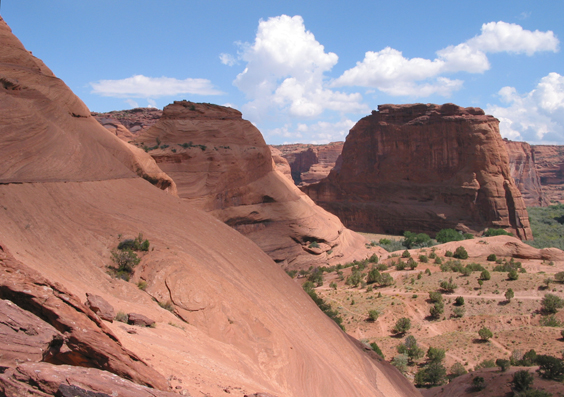 Giant cottonwoods cover the canyon floor, where the river was running high from recent storms. The White House ruin complex is one of dozens of cliff dwellings scattered throughout Canyon de Chelly. Built by Anasazi emigrating from Mesa Verde and Chaco Canyon in the 12th century, they were abandoned in the 13th century and later occupied by Hopi and Navajo peoples.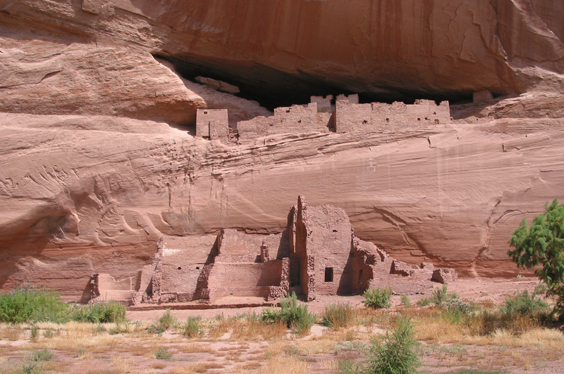 Another treasure in the canyon bottom was a table of exquisite jewelry created by local silversmith Cecil Henry. Dennis made an early birthday present of this silver bracelet recounting the history of Canyon de Chelly, from Spider Woman to modern-day jeep tours.
The next day we were at the Visitor Center at 8:00, looking for a Navajo guide. Private guides charge $20/hour with a five-hour minimum, while Visitor Center guides are limited to $15/hour. One of these guides proposed a four-hour hike along "Bear Trail", which begins at a private residence near the round-cornered house and crosses the canyon to Ledge Ruins overlook. The descent to the canyon floor looked impossible, but ancient stone steps appeared below our feet as if by magic.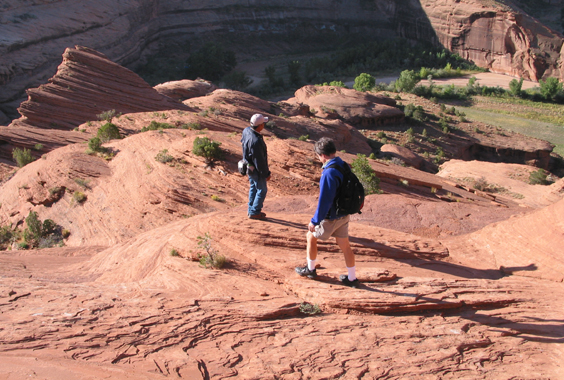 A traditional Navajo farm on the canyon floor. Plenty of water, rich soil, a comfortable home, big shade trees and perfect weather. Paradise, in other words!
The round-cornered house was one of many cliff dwellings -- not always on the map -- that our guide pointed out to us. Note the petroglyphs on both sides of the building.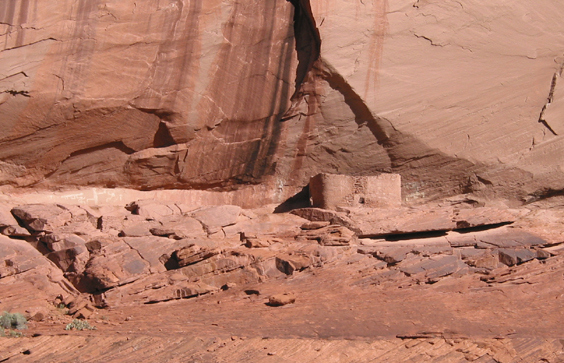 Junction Ruins, at the intersection Canyon del Muertos and Canyon de Chelly.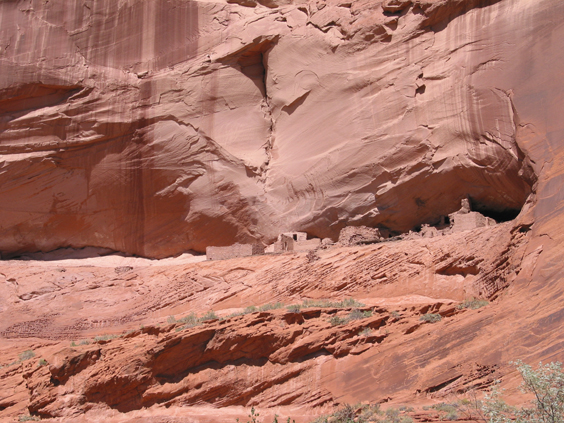 We enjoyed this hike despite a serious disagreement on distance. We completed the hike in 4-1/2 hours, but only by half-jogging through deep sand with no time to drink, eat or pee.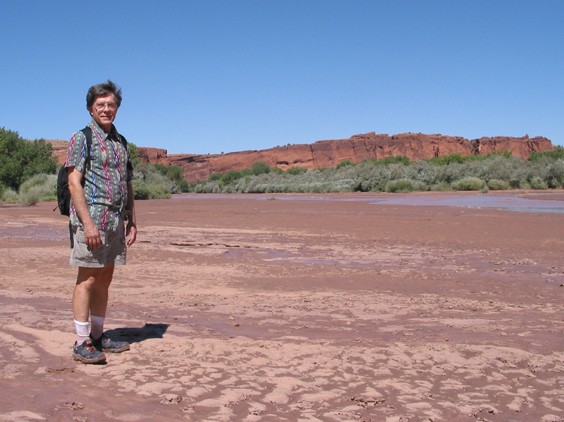 Dennis on the mud flat below the junction.
It was time to point the Subaru south, but first I needed one more cup of coffee. The only coffee shop in town is "Changing Woman Espresso," housed in a small trailer at a bend in the road just below the Visitor Center.You can order any coffee drink you like, so long as it's mocha. That's Dennis with a cup and a dog named, of course, "Mocha."
We met my honorary brother Rob for dinner in Show Low. He was right about a dearth of places to stay south of Show Low.We ended up at the very affordable ($26.95) El Rey Motel in Globe.(Oh boy! More great neon!)
A certain fat cat was very, very glad to see us. Maybe if he sits on our luggage, we'll never, never leave him again!