A Taste of Winter: Cross-Country Skiing in Flagstaff
December 13-16, 2007
David, Rogil, Dennis and I amused ourselves for several weeks by planning a backpacking trip to Turkey Creek in mid-December. But the week before our long-awaited and over-researched expedition, the Southwest caught the tail-end of a massive storm that topped off the streams and shrouded the Catalinas in a thick veil of fog and snow. Mogollon Creek was running 8-10 times its normal level, and the forecast for Silver City was lows in the teens with highs only in the 40s. Even if we could manage the multiple stream crossings, we'd still be soaking wet in freezing temperatures.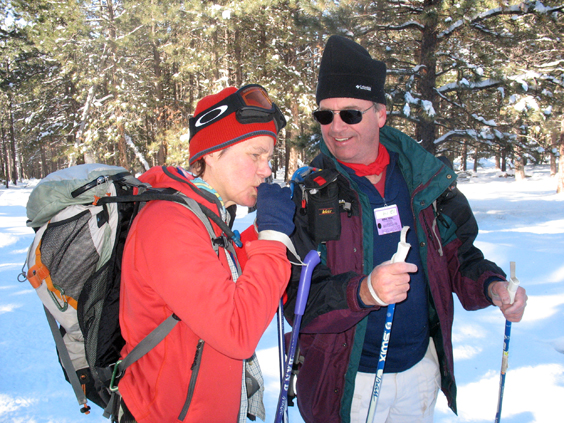 At the last possible moment, we swapped our New Mexican backpacking adventure for a weekend of cross-country skiing in northern Arizona. We were thrilled to find a good two feet of fresh snow on the ground at the Flagstaff Nordic Center. With temps hovering between 15° and 20&deg, Rogil demonstrates her well thawed out technique for handling a frozen hose.
As usual, our +20-year-old gear attracted a certain amount of attention, and NOBODY but me was waxing skis.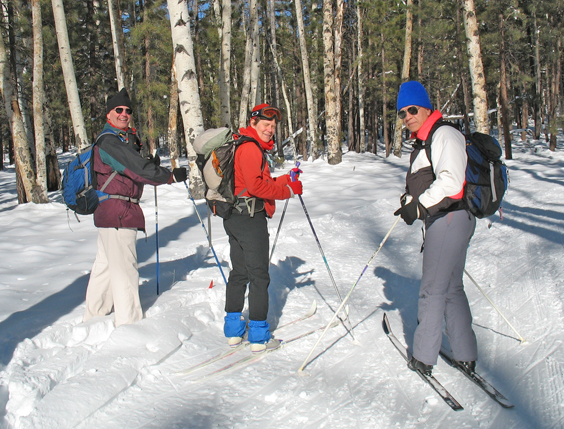 Well, okay, so I remember wool knickers, three-pin bindings and pine tar, but I also remember how to ski. Click the arrow below to watch skiers scrambling to get out of the way of the crazed middle-aged lady with the $10 yard sale skis and a video camera.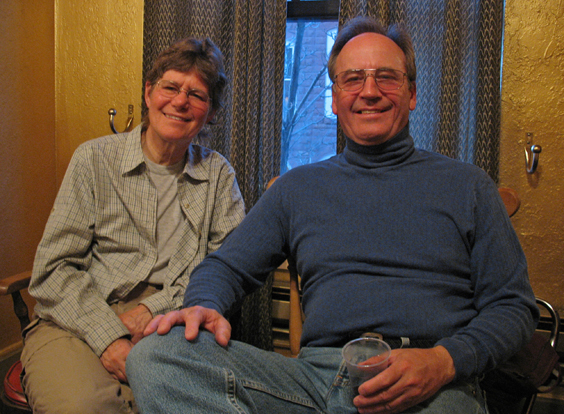 Fortunately noone was injured, and we all survived to share a pleasant dinner and another night at the Mounthe Volume Hotel in downtown Flag, which unfortunately no longer operates as a bona fide hotel but only as overflow for the bar downstairs.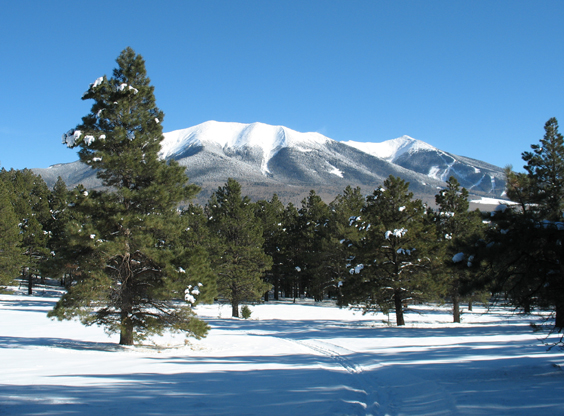 Somewhat sobered after our a +20 km first day out, Dennis and I got a late start and meandered slowly to the top of Bear Jaw Trail. Here at last we were rewarded with an extraordinary view of the San Francisco Peaks.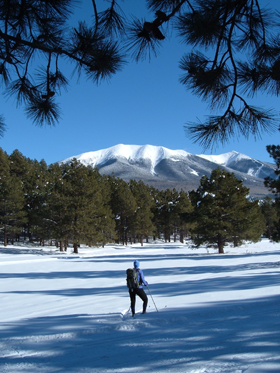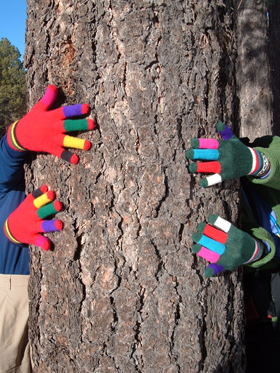 Tree Huggers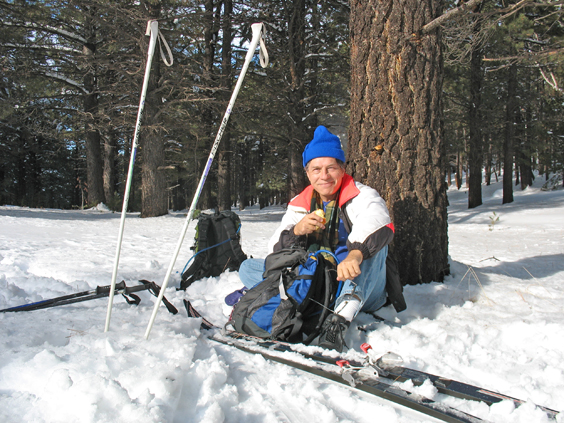 The weather had warmed up to the low 30s, and we were able to sit on our skis in the sun and enjoy a quiet lunch next to some fresh elk tracks.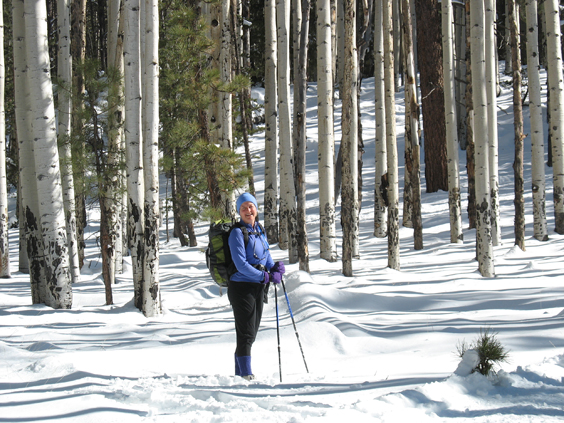 Did you ever wonder about the dark scratches at the base of these aspen trees? In the winter when other vegetation is low or buried in snow, aspen bark is a major food source for elk. Deer and elk also scrape their velvet antlers against the trunk.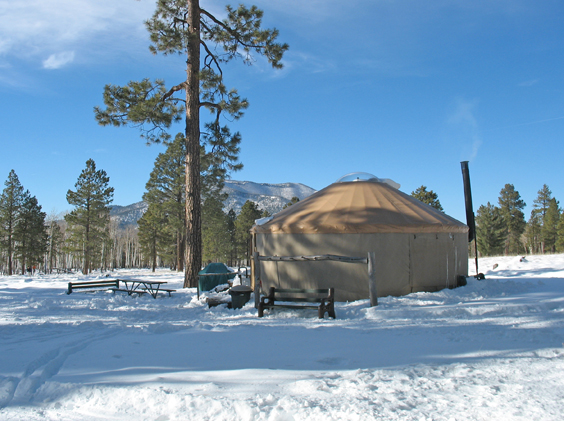 The yurt/warming hut at the Flagstaff Nordic Center.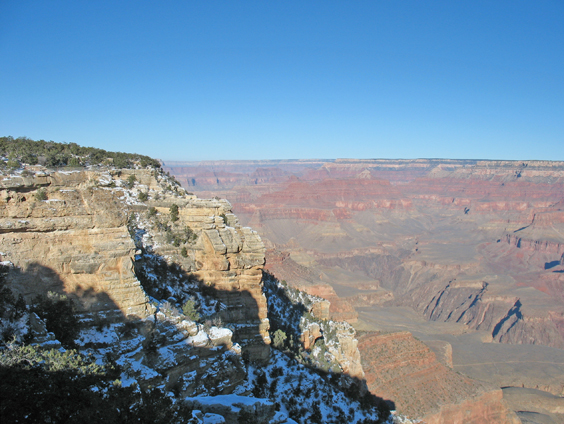 After breakfast Sunday morning, we made a side trip to the Grand Canyon.
There wasn't as much snow as we expected, but the winter light was dazzling.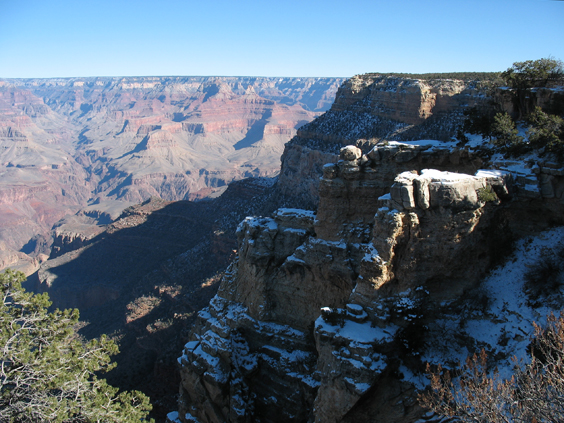 Free of the summer crush of tourists, there was time for a quiet cup of coffee in the lounge at El Tovar.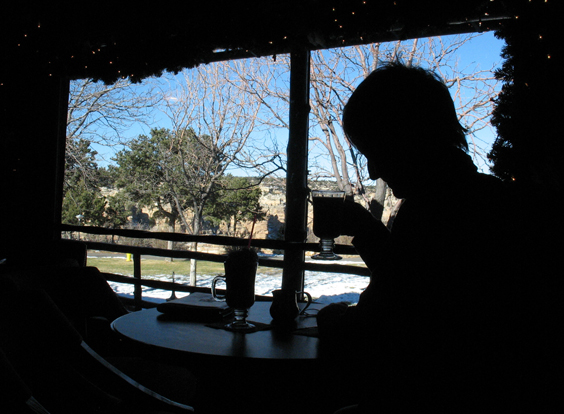 One last look at the snow-covered San Francisco Peaks. If I lived in Flag, I wouldn't be able to work, because I'd spend all my time looking at these mountains.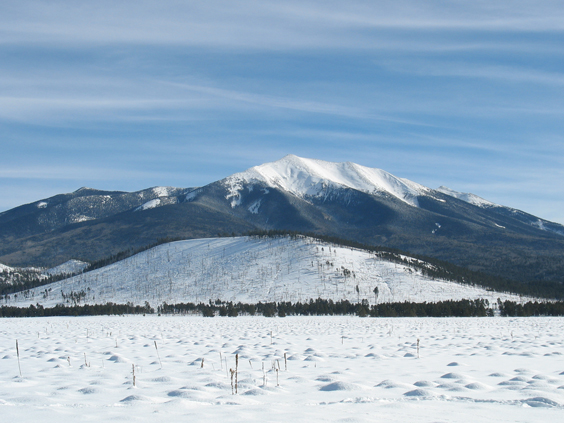 Many thanks to David and Rogil for being so flexible — and we're still looking forward to backpacking to Turkey Creek!