Great Staircase/Escalante
Christmas 2005
Here we are on our winter skiing vacation at Bryce Canyon. Well, at least that's how it started out. But two things got in the way: 1) the winter snows stubbornly refused to put in an appearance, and 2) we fell in love with the fabulously wild and unruly Grand Staircase/Escalante National Monument.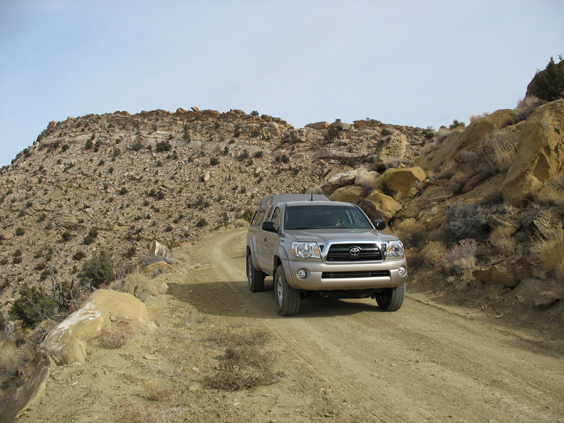 It was an easy four-hour drive to Flagstaff, where we stopped to take on gas and food. Unable to obtain a permit (or even a return phone call) from the Navajo Nation, we gave up on hiking Antelope Canyon and settled for a quick tour of Sunset Crater and Wupatki National Monument.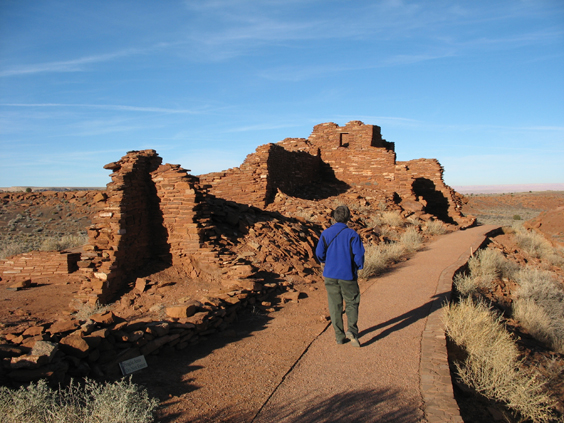 Wupatki is just one of at least five major pueblos in the monument dating from the 1100s. Standing like drydocked ships on the shores of the Little Colorado River, they may have supported several thousand people based on ephemeral springs and soil enriched by the eruption of Sunset Volcano in 1064 AD.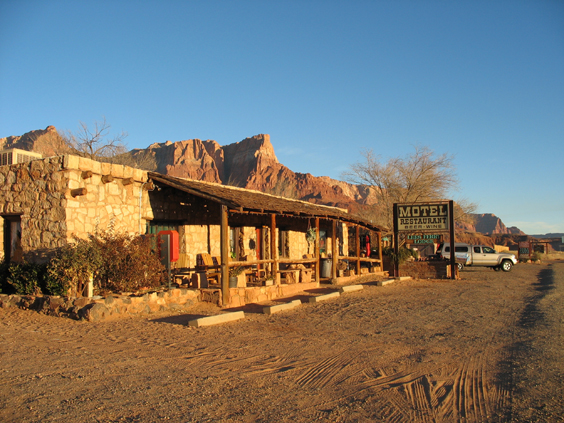 The only motel open on Christmas Eve was Lee's Ferry Lodge at Vermilion Cliffs. We arrived after dark and found ourselves completely alone in 1920s vintage natural stone building overlooking the Colorado River. A note on the door pointed us to our very cozy room, and we awoke to brilliant sunshine on fire-red cliffs. Christmas in Arizona!
The road climbs steeply from Lee's Ferry to Page, offering great views of the Colorado River Valley.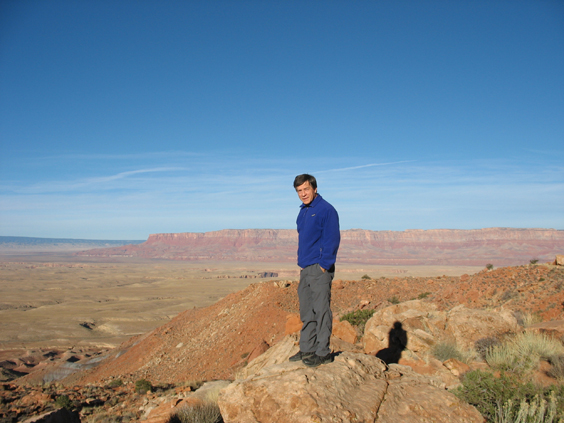 You cross the Colorado again at Glen Canyon Dam, which gave birth the very blue and very controversial Lake Powell.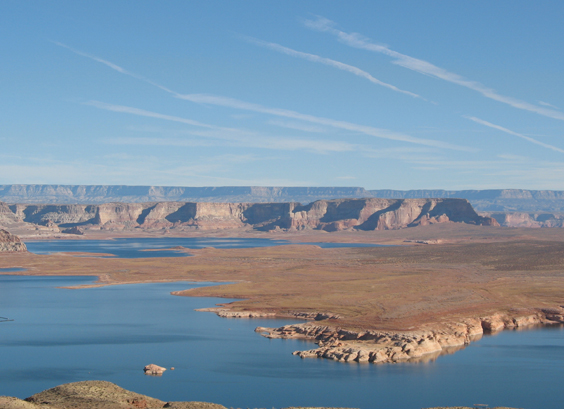 Our objective was Cottonwood Canyon Road, the main route from Page to Bryce Canyon according to Mapblast. When this road turned up missing on several Utah maps, I dashed off a quick note to UDOT and received a rather alarming reply: "Anyone traveling this route in wet weather should take along enough food and water to survive until dry weather returns."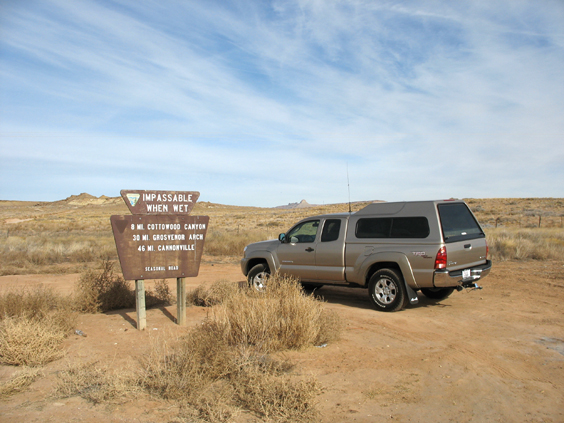 What a perfect challenge for Dennis and his brand new Toyota Tacoma! The as-yet-unnamed pickup is fully equipped for camping and already has more toys than any vehicle since -- dare I say it? -- my beloved Consuela.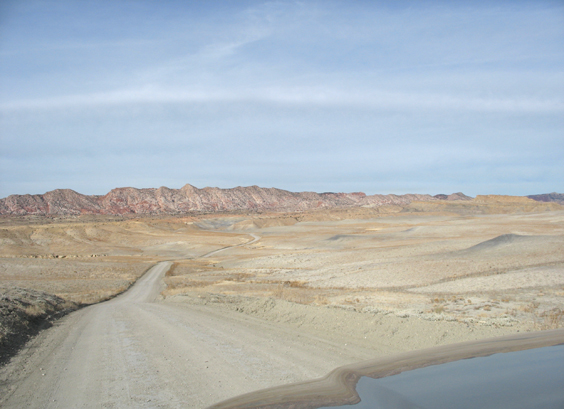 Cottonwood Canyon Road begins by snaking through a wide gray valley. Although the road was dry, it's not difficult to imagine what fine mess the Bentonite clay soil could make with just a bit more water.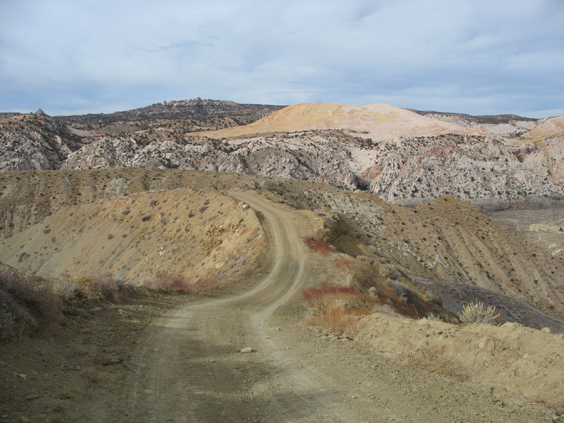 Our first 4WD challenge was a one-mile-long climb to the top of the Cockscomb, a spectacular rock fin that divides the Grand Staircase and Kaiparowits Plateau regions.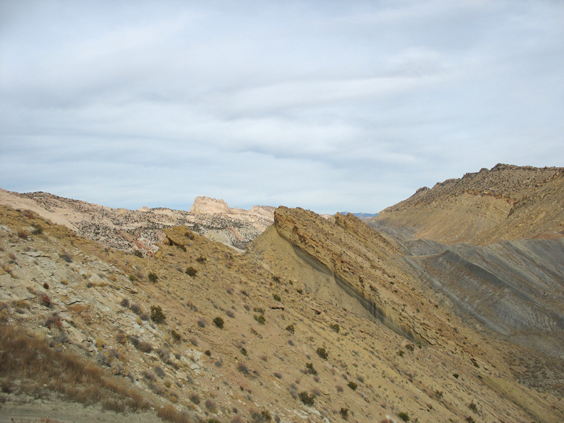 From the top of the ridge, you can see all the many colors of Grand Staircase/Escalante -- red spires, gold fins, white domes, coal-black valleys and WHAT IS that baby-bottom-smooth pink dome in the distance??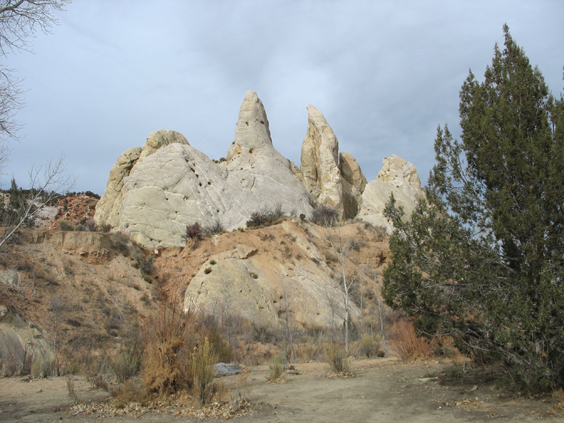 The lunch rock was a ship-shaped gray monolith.

A diagram at the Grand Staircase/Escalante Visitor Center helped me understand that this region really does consist of a series of "steps" that display different layers of rock as they march downhill from Bryce to the Grand Canyon.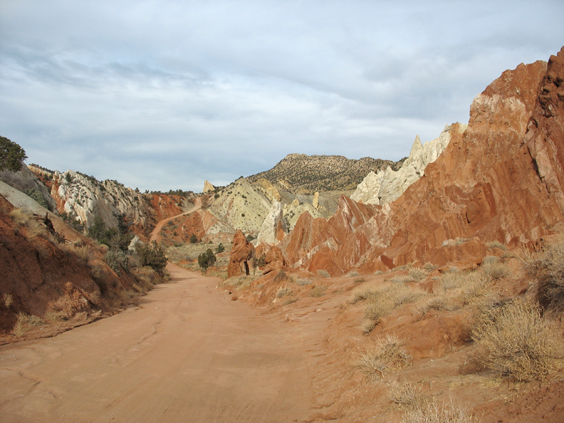 As the canyon narrows, it also changes color, here revealing rust red and chalk white badlands.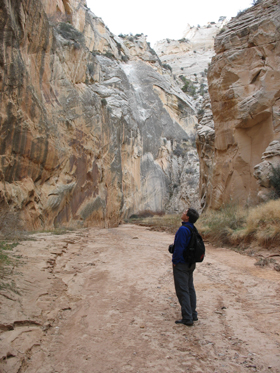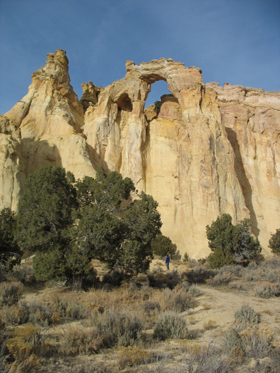 We took a short hike into Cottonwood Canyon Narrows, a slot canyon that cuts straight across the Cockscomb. Dennis counted to four (the number of minutes elapsed between when I set foot in the canyon and when I collected my first rock).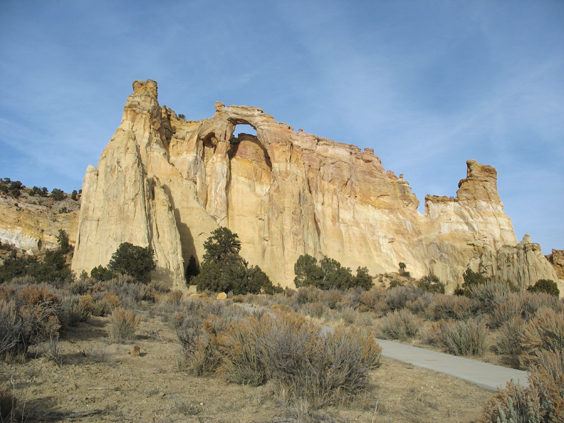 We arrived at Grosvenor Arch just in time for sunset, and immediately began rooting around the left side in search of a trail. We reached the top in less than half an hour, but completed the final ascent crawling on our bellies like giant lizards (the actual trail is on the right).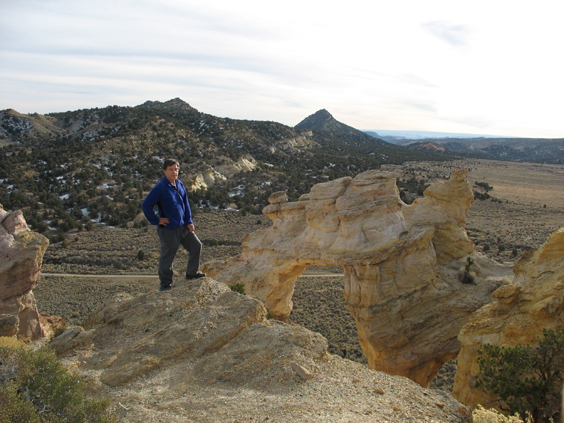 After a bit of puddle-jumping in Kodachrome Basin State Park, we encountered the first and only real disappointment of the trip: our room at the Bryce Canyone Inn in Tropic. The web site showed photos of a log cabins with views of the mountains, but the "main lodge" was a double wide at the back of a pizza parlor. We stayed one night and fled up the hill to Ruby's Inn, which was a much better value.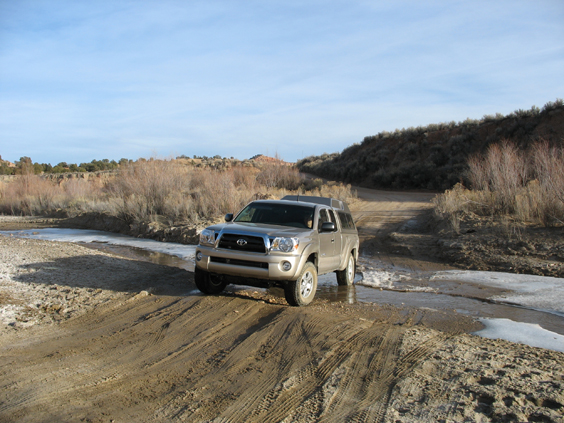 I was prepared to dislike Bryce Canyon. With a $20 admission fee, it was groomed and manicured for mass consumption by busloads of Japanese tourists. But the spires are not red, they are luminous peach, and they were as appealing as fresh-baked pastries dusted with powdered sugar.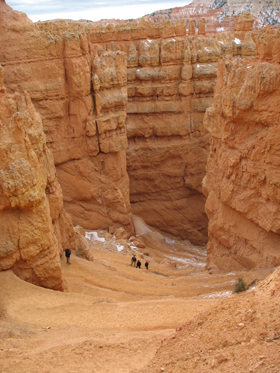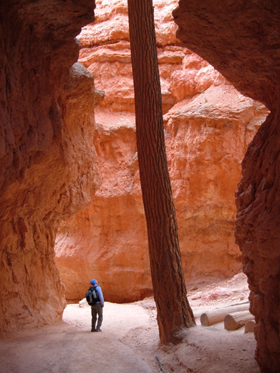 For our first hike, we chose the Navajo/Queen's Garden Loop, which drops straight down the canyon wall to the base of the spires. Absolutely breathtaking!
We raced back to the rim just ahead of a major snowstorm.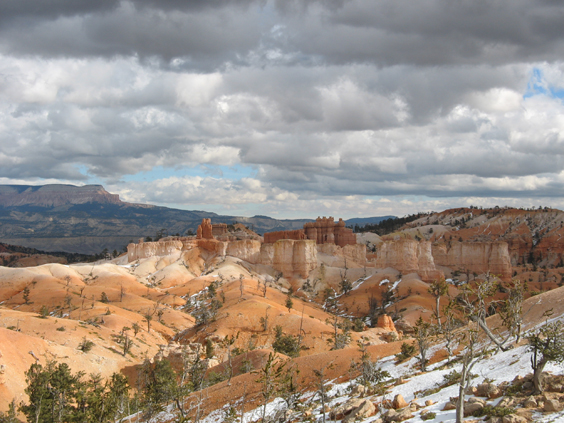 Steel-tipped clouds over orange creamsicles.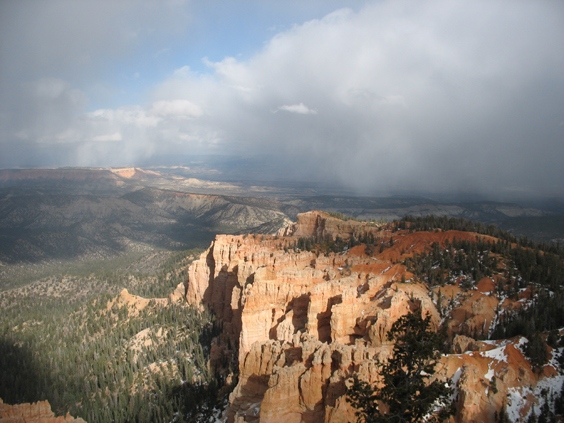 The view from Bryce Point, at the far end of the canyon (elvation 8925 feet).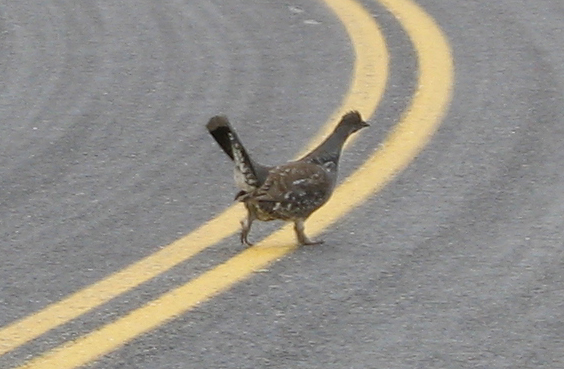 The changing weather must have confused the critters. On the way back, we sited two blue grouse and a herd of mule deer.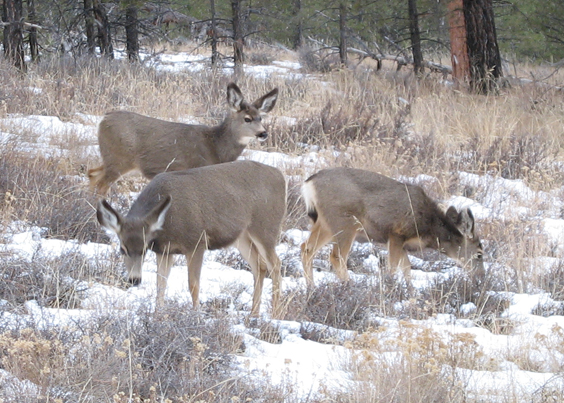 Total accumulation was not two feet as forecast, but a mere four inches. That was just enough for one good run on the unploughed Fairyland Canyon Road.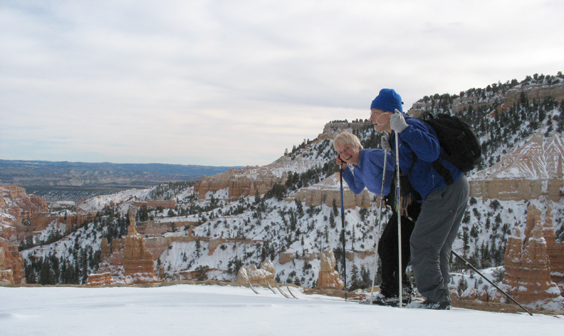 Once the roads were clear, we made a mad dash to lower elevations, stopping for an early morning five-mile-round-trip hike to Lower Calf Creek Falls.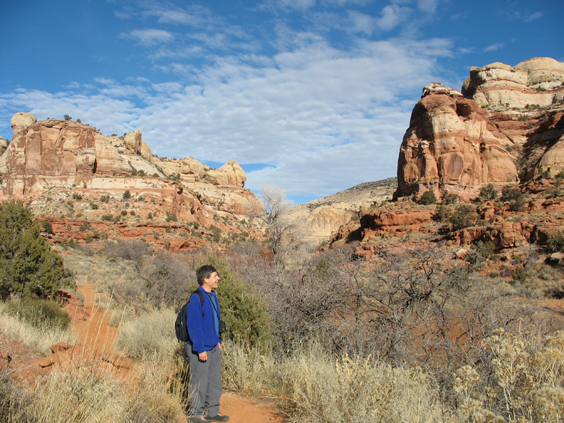 With its varnished red walls and numerous cliff dwellings, Calf Creek reminded me of Canyon de Chelly.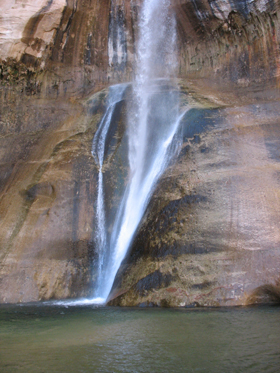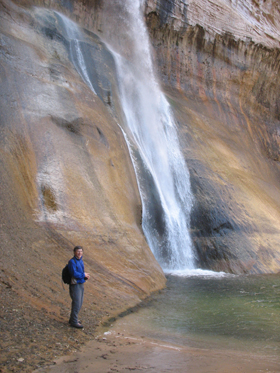 But the canyon's best feature is a 164-foot waterfall that spills into an apple green pool.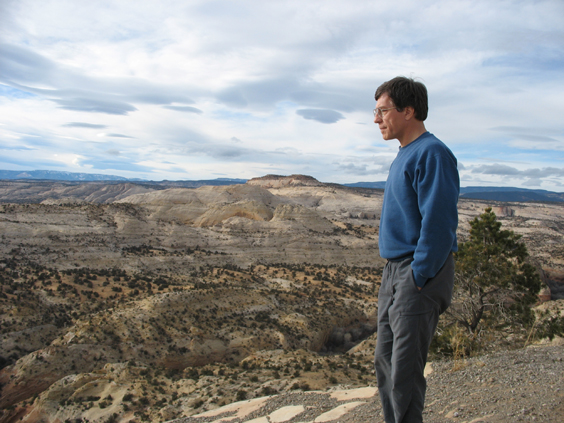 Just uphill from the falls, there's a pulloff with a sweeping view of southern Utah's canyon country.
In Boulder, we abandoned Highway 12 for Burr Trail, which winds southeast toward the Waterpocket Fold, a 100-mile-long warp in the Earth's crust.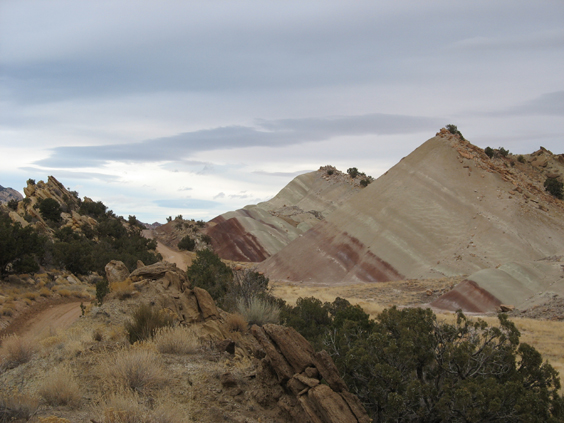 The rock layers on the west side of the Fold were lifted more than 7000 feet higher than the layers on the east during the Laramide Orogeny, a major mountain-building event in western North America 50-70 million years ago.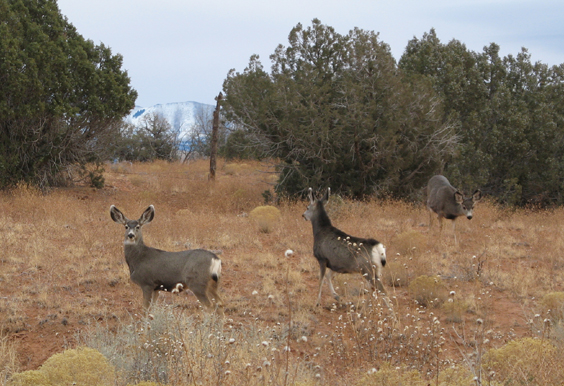 Mulies abounded on Notom Road.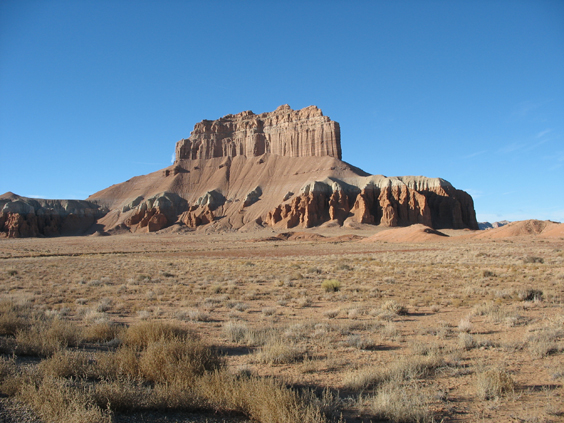 A side trip the next morning took us to Goblin Valley State Park, home of the weirdest possible rock formations in a state that excells in weird rock formations.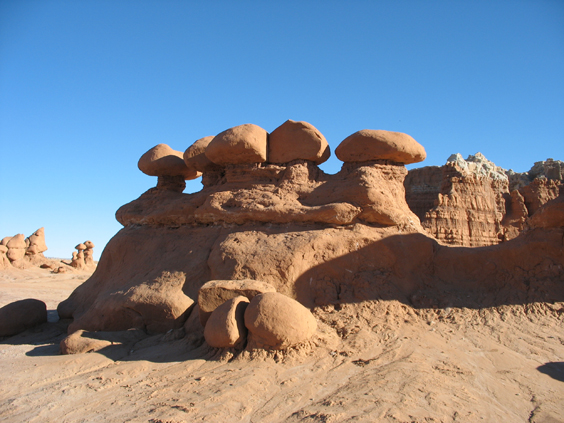 Stone caps perch on columns of red dirt with bizarre results.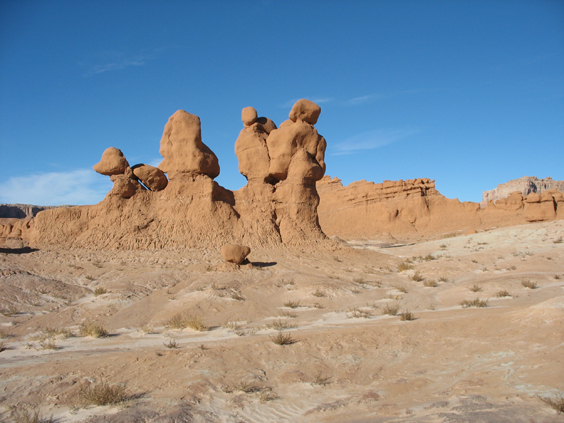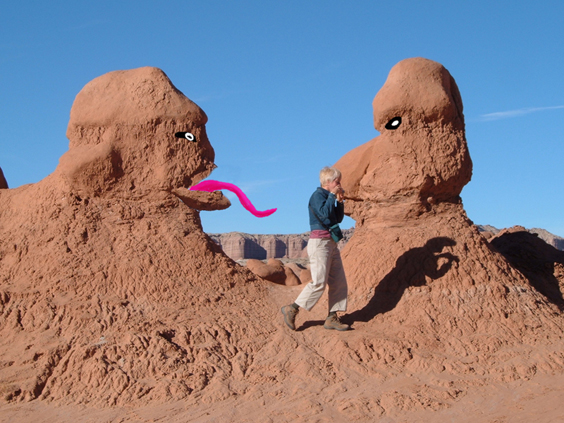 I'm not sure I'd want to wander around in here after dark (special effects by Dennis).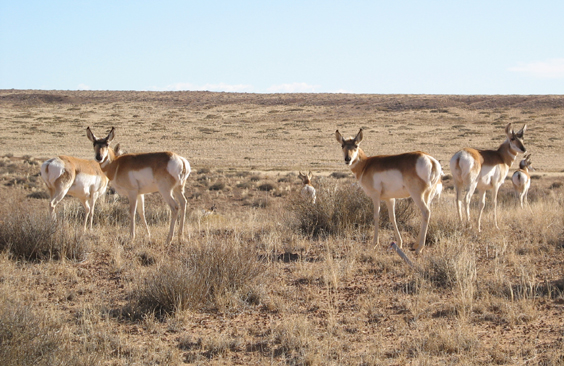 A chance encounter with a herd of pronghorn antelope left us at a loss for words. I had never seen them close up and had no idea they were so beautifully painted, with their banded necks and bull's eye butts.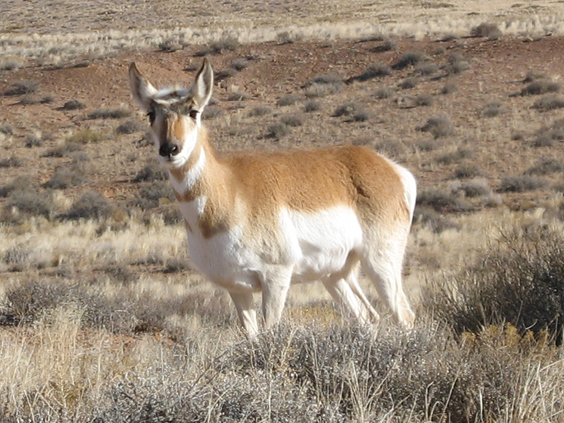 My sister Jan says that Teddy Roosevelt used to hunt antelope in western North Dakota by lying on his back, putting his hat on his foot, and wagging it in the air until a curious antelope was close enough to shoot.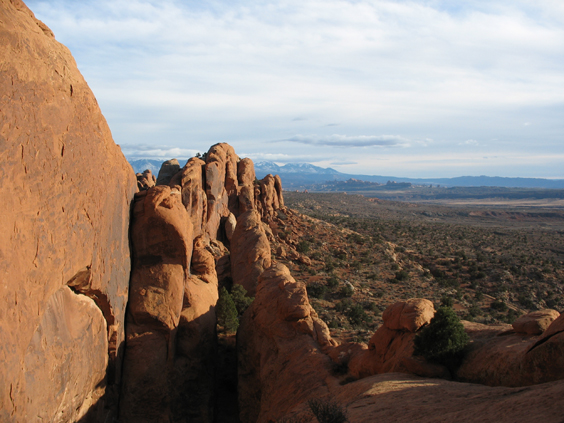 The finale of our trip was two days in Moab, where we squeezed in a sunset hike to the Devil's Garden in Arches National Monument.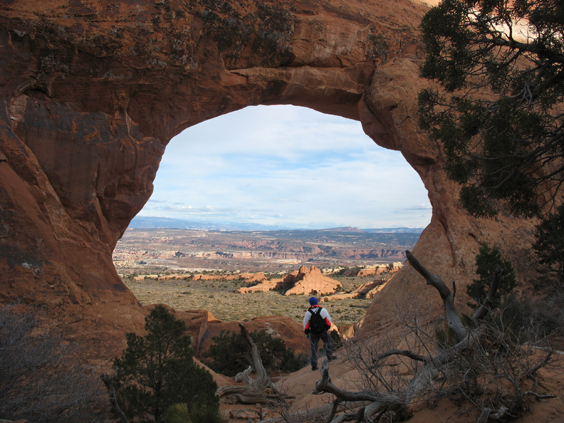 Partition Arch.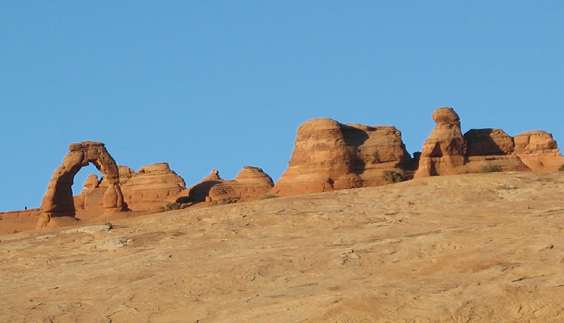 An unusual view of Delicate Arch.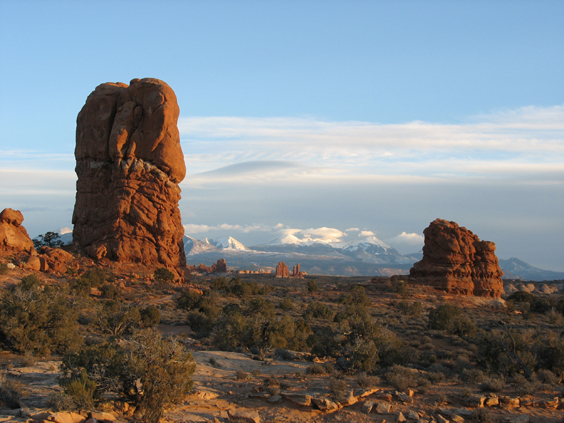 Sunset on the snow-capped La Sal Mountains.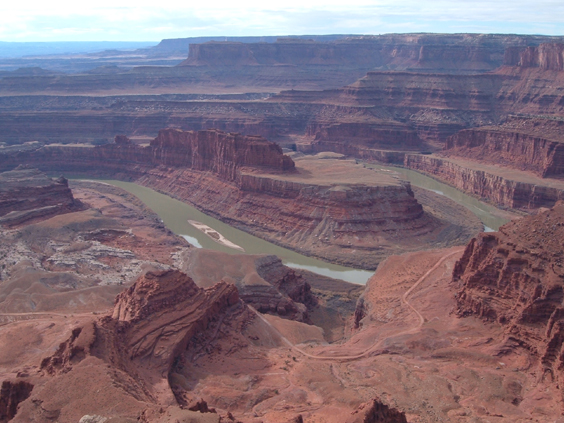 Dead Horse Point.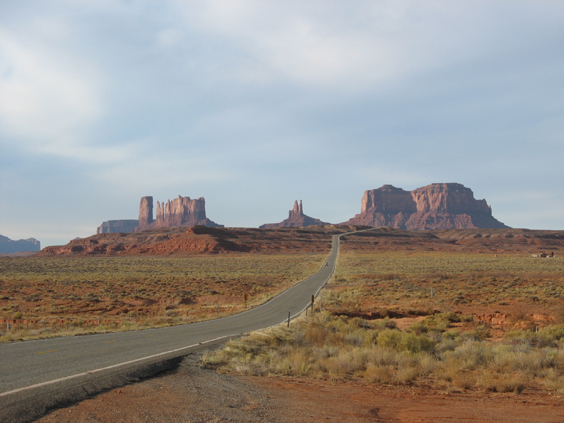 The classic view of Monument Valley, heading back across the border to Arizona.
Not to diminish the importance of Monument Valley, Arches or Bryce, but by the end of this trip we realized that these landmarks are just the best-known manifestations of rock formations that can be found throughout southern Utah. And the grandaddy of them all is Grand Staircase/Escalante National Monument. We'll be back!