Texas Star Party: Closed Encounters of the First Kind
May, 2009
They say the stars at night are big and bright, deep in the heart of Texas. Based on our first trip to the annual star party in Fort Davis, Texas, I would have to agree. This waltz across the Southwest re-united three amateur astronomers who spent their 30s in a U of A machine shop, crafting telescope parts by hand and occasionally setting off small explosions. Tom, Kit and Dennis got to thinking about all the space they'd observed, and all the places they'd missed, and decided to get back together and do it again.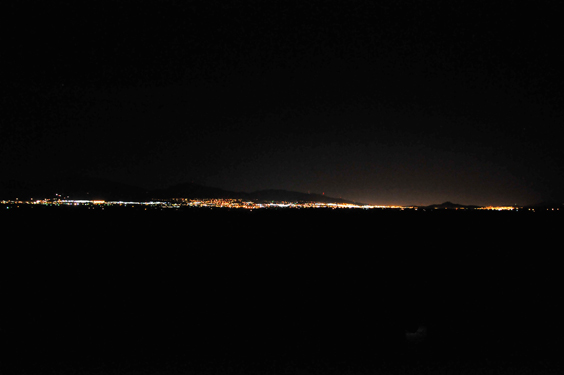 We met at Casa de Sueños Bed and Breakfast — a bit off the beaten path but a welcoming and comfortable refuge with a spectacular view of the night sky of El Paso.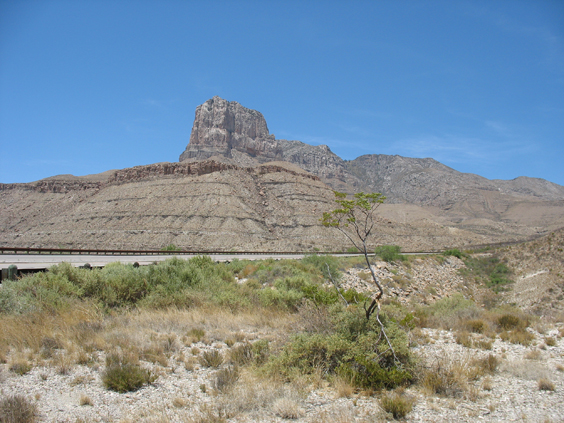 Ann H. survived graduate school at Texas Tech by discovering the Guadalupe Mountains. This ancient coral reef includes El Capitan (8,085 feet) and Guadalupe Peak (8,749 feet), the two tallest mountains in Texas.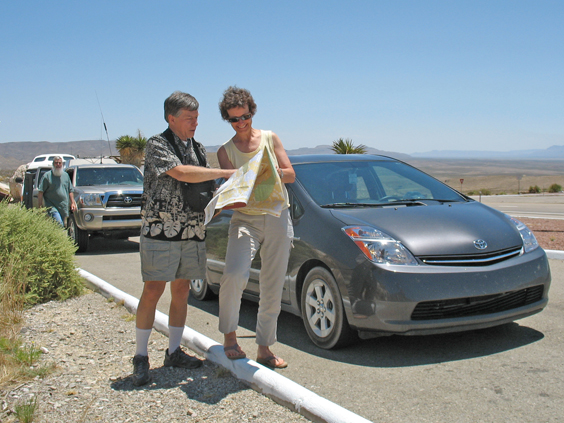 We vowed to return for an extended visit, but noticed in passing that road to McKittrick Canyon closes at 6:00 pm, and that while a permanent stream is the canyon's main attraction, visitors may not wade or swim in it.
Next stop: Carlsbad Caverns! We chose a self-guided tour from the natural entrance. With outside air temperatures topping 100°, the cool, damp cave air was delicious. A cyclone of cave swallows swirled around us as we switchbacked 800 feet into the mouth of the cave. Click the arrow below for a video.
A slide show of our best photos from the cave. The D-300 did a great job of capturing the enormous variety and complexity of the formations inside the cave, even with extremely limited light.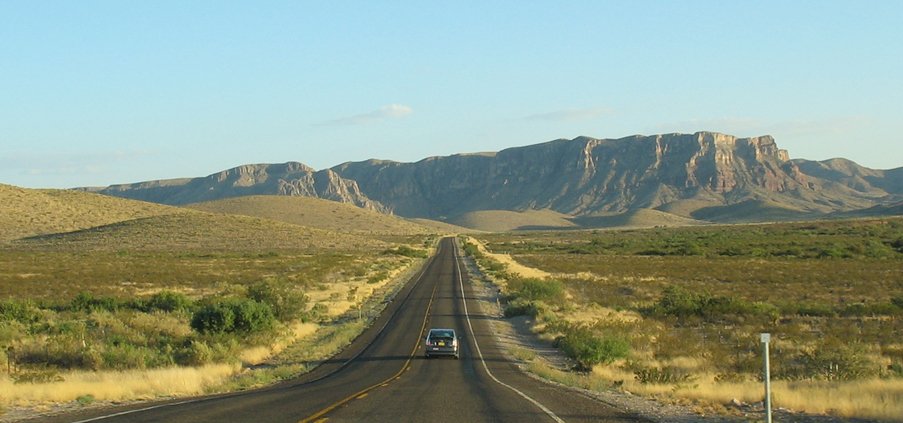 Since the only store in White's City closed at 6:00 pm, dinner was a Subway sandwich in Van Horn. On the plus side, we had a fabulous sunset ride south on Highway 54, virtually deserted except for the jackelopes who threw themselves under our tires every 50 yards. Click and drag for a panorama.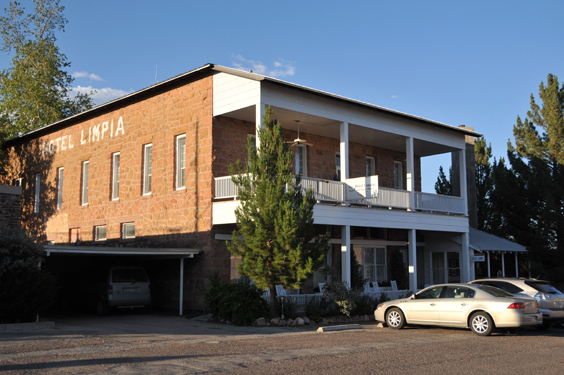 We landed that night in a comfortable suite at the historic Limpia Hotel in Fort Davis, Texas. This high desert oasis was home to a frontier military post from 1854 to 1891. The Limpia Hotel was built in 1912, and is famous for its restaurant. Unfortunately, as we learned the next morning, the Hotel Limpia Dining Room does not serve breakfast.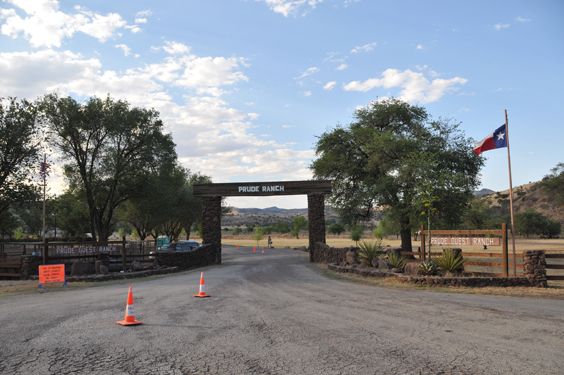 But our ultimate destination was the Texas Star Party at Prude Ranch in the Davis Mountains.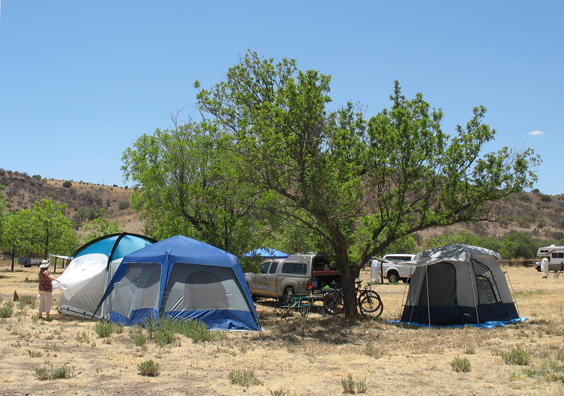 For the next three days, home would be "Caudellville," a circle of tents in the anemic shade of a lone scrub oak tree.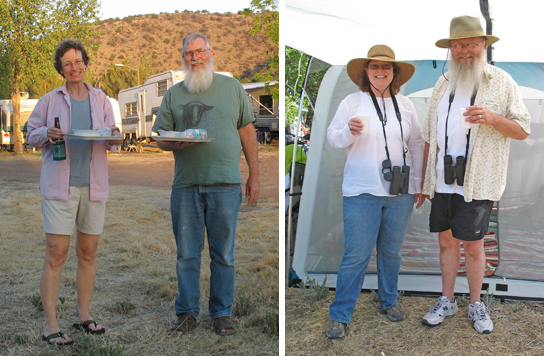 Fortunately, we had wonderful neighbors — Ann H. and Kit on the left, and Ann C. and Tom on the right.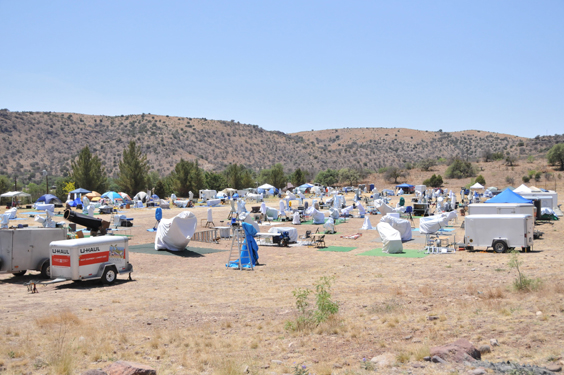 With temperatures near 100°, days were for splashing in the ice cold pool, reading, napping, telling tales, drinking cold Chardonnay, and waiting for nightfall.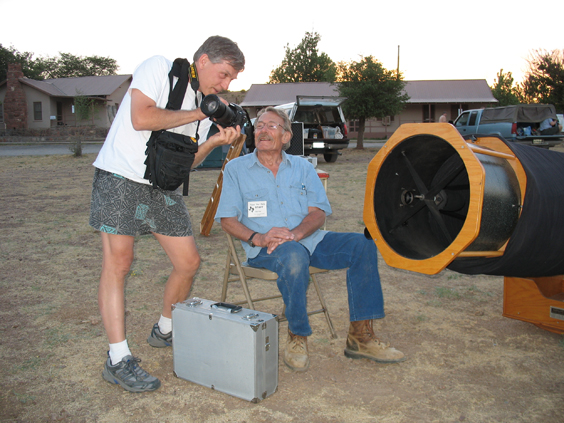 The Texas Star Party is a week-long event that attracts amateur astronomers from all over the world. Hundreds of telescopes probe the night sky, ranging in size from very large to gargantuan.
A wink from the D-300.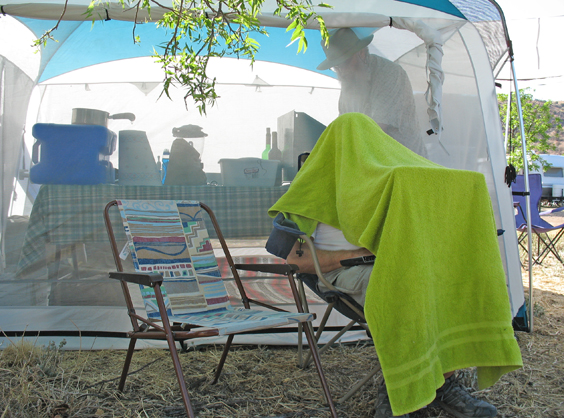 There was no cell service, but there was reasonable wireless internet rigged up by a team of Texas hams. Dennis troubleshoots a server outage with the aid of an improvised "photographer's hood" while Tom prepares breakfast.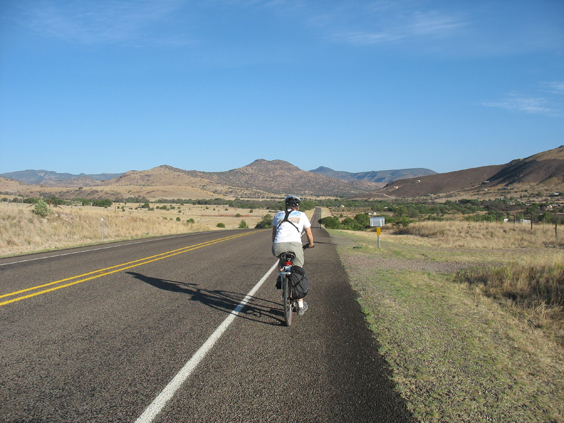 Early Monday morning, Dennis and I pedaled 13 miles to the McDonald Observatory and back. Route 118 is part of a 75-mile-loop that is rumored to be the best bicyling route in the state of Texas. However, the prettiest part of the loop is between the observatory and Route 166.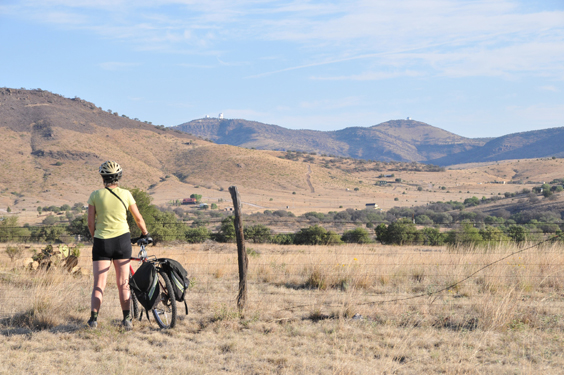 MacDonald observing McDonald Observatory.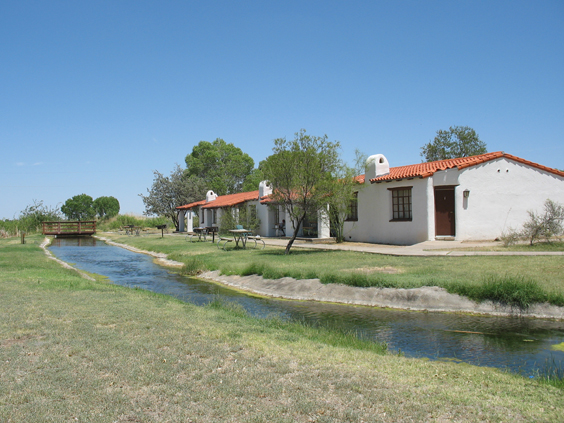 One of the highlights of our trip was a visit to Balmorhea State Park in Toyahville. Here San Solomon Spring feeds a 1¾-acre pool constructed by the CCC in the late 1930s. The pool is remarkable for its size, depth (up to 25 feet) and its constant temperature of 74°. With a daily flow of 22-28 million gallons, the pool is crystal clear and chemical-free, so swimmers share the waters with lots of aquatic life including Comanche Springs pupfish, Mexican tetras, green sunfish, headwater catfish, and spiny softshell turtles.
Dennis takes a dive. I wonder where he got such great form?

Like father, like son!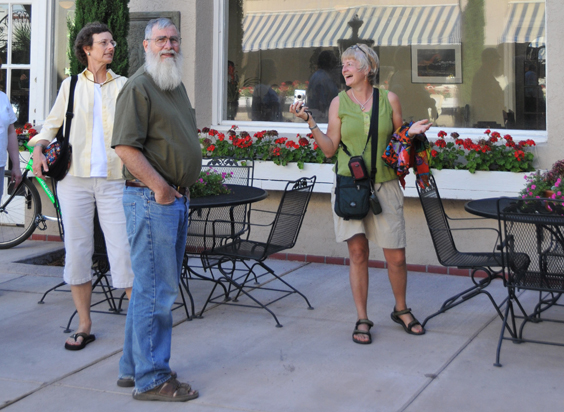 We all wanted to visit the galleries and shops in Marfa, but in this tourist town they roll up the sidewalks on Sunday night and don't deploy them again until Thursday morning.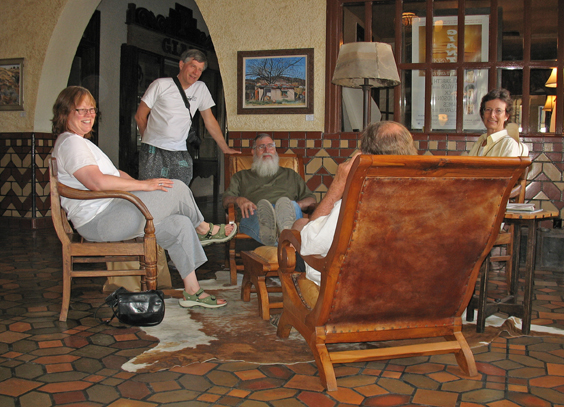 The one brilliant exception was the Hotel Paisano, where we enjoyed some power shopping and a wonderful meal in an atmosphere of slightly seedy southern elegance. Over dinner, we planned enough adventures to last all of us for several lifetimes!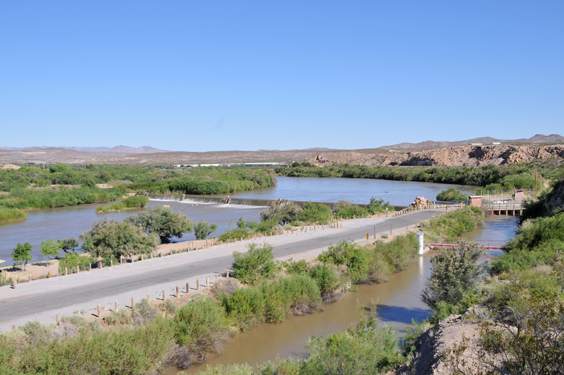 We arrived back in Fort Davis two minutes late to buy ice. The next morning, we tried to organize a farewell lunch at the Limpia Hotel, but apparently this famous eatery also does not serve lunch. So Tom and Ann headed back to Albuquerque by way of a B & B in Ruidoso, New Mexico, Kit and Ann moved to the Wildflower Inn in Fort Davis, and Dennis and I made a beeline for Hueco Tanks State Park. We arrived just after 6:00 to find the road blocked and barricaded, with no posted hours.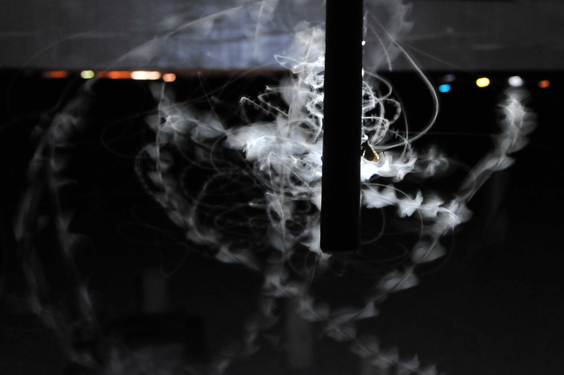 So it was back to El Paso, I-10 and Leasburg State Park just north of Las Cruces, where we squeaked in just before those gates were also locked for the night. The evening's entertainment was photographing moths swirling in the strobe of a flourescent flashlight.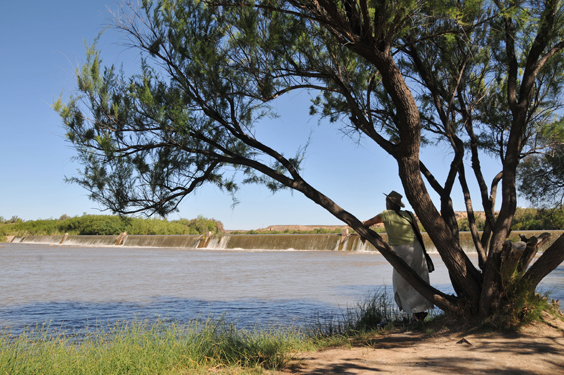 Now why is it that the Rio Grande flows all the way across New Mexico and is still bank-to-bank at the Mexican border? Meanwhile in Arizona, the Gila, the Verde and the Salt converge on Phoenix, and not one drop makes it past the city limits?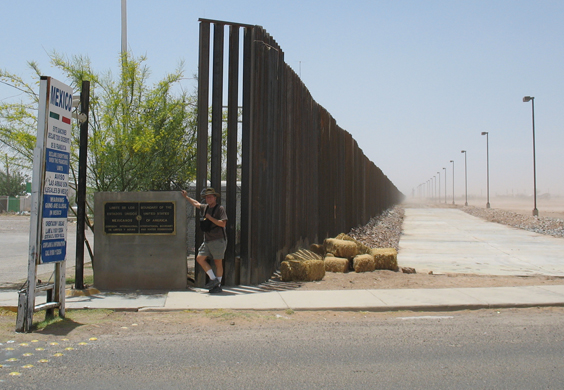 We continued along the west side of the Rio Grande to Hatch, where virtually every building is now boarded up, and there is no sign of the pepper cultivation that once put this town on the map. We ate lunch at La Tienda Rosa in Palomas, Chihuahua, but had to exit via Route 9 when a violent dust storm closed Highway 11. From here to the Arizona border it's a lunarscape of abandoned railroad tracks, blowing dust, crumbling canals and rusty metal buildings.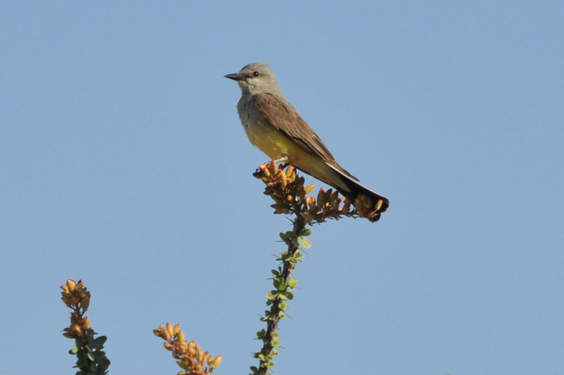 What is happening to the small towns of southern Texas, New Mexico and Arizona? Is it competition from foreign imports? Prolonged drought? The price of gas? The housing market? Or do we now have our very own DMZ in the no man's land near the Mexican border? We will do our best to wake up a few ghosts when we return to southern Texas this winter to visit Big Bend, Chinati Hot Springs, the Marfa Lights, the Guadalupe Mountains, Hueco Tanks and all the other hot spots we missed on this trip!