Consuela
My father's most prized posession was a cherry red 1980 Dodge Sportsman B-100. She was fully equipped with every possible gadget from a television set to a portable toilet. The interior was as red as the exterior, right down to Margaret's handmade red-and-white striped sheets. In fact, Floyd bought so many trinkets for that van that Jan nicknamed her "Consuela."
He drove that van for 15 years, until he was too old and frail to reach the pedals. Whenever I'd visit my parents in Florida, he'd ask me to wax the van, even though he hadn't driven her in years.
"You don't drive that van anymore," my sisters wondered. "Why don't you sell it and buy a smaller car?" So Floyd put a tiny "for sale" sign in the window and parked her behind the trailer. And there she sat until Jan persuaded him to give the van to me.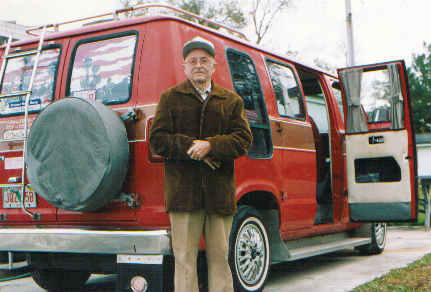 Floydie says good-bye to Consuela.
We bought one-way tickets to Florida, intending to drive Consuela 2000 miles back to Montreal. I broke into a cold sweat just backing her out of the driveway. She was as wide as a barn, with a huge stick on the floor behind the driver's seat. You had to stand on the clutch pedal to change gears.
In the first few months, I replaced every part containing fluid, since Consuela was already 15 years old and had never lived in a cold climate. But then she ran faithfully for eight more years, and took me everywhere from Nova Scotia's Bay of Fundy to Mexico's Seri Coast.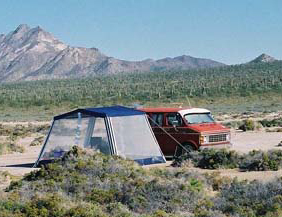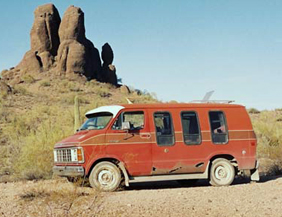 Camping on the Seri Coast ... and in Organ Pipe National Monument.
While I was living in Kansas City, Consuela took me and my friends on many trips to the Ozarks and the Current River. With her "KCFOLK" vanity plates, she had quite a following in the dance community. "There's Consuela," said a woman sitting next to me at a contra dance festival at Cuivre River State Park. She had no idea who I was, but she knew that big red van!
"Why does Marion drive that old beat-up van?" wondered another dancing friend. "Is she making some kind of statement?"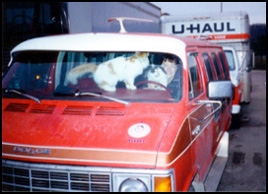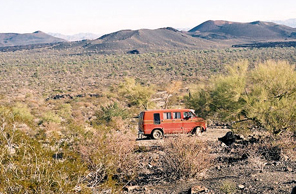 Moving to Kansas City ... and on the rim of a Mexican volcano
Consuela moved me and the cats literally across the continent -- from Montreal to Kansas City, and then from Kansas City to Tucson. And there she lived out her final days, back in a warm climate at last. She continued to do the impossible right up until the end, running the rough back roads of the Sonoran Desert from Organ Pipe National Monument to the Pinacate Volcano Field to Mexico's rugged Seri Coast. I couldn't bear to sell her, so I donated her to Casa de Los Ninos, a local charity, in May, 2003. She was 23 years old, had over 130,000 miles on the odometer, and sported importation stickers from the Province of Quebec, the United States and the Republic of Mexico. Floydie would have been proud of her!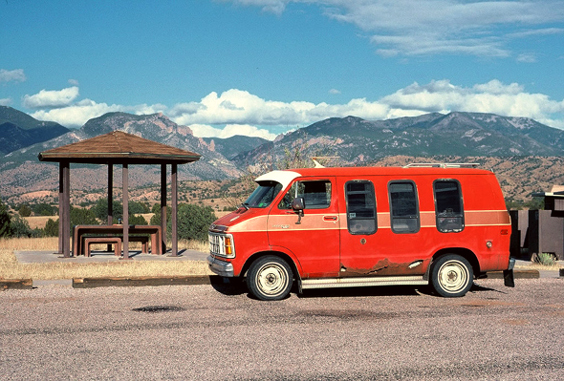 Consuela at Aldo Leopold Park in southwestern New Mexico, Thanksgiving, 2003.