Prairie Rose
Margaret McDonald
(December 23, 1917 - July 30, 2000)
The prairie rose is a lovely but remarkably hardy bush that blooms throughout the Midwestern plains where Margaret McDonald spent most of her life. My mother belonged to the prairie, but hard times forced her family from the land. Like many of her generation, she would spend decades searching for another way to live.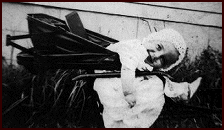 Margaret Alida Arntz was born on December 23, 1917, the daughter of Edward Werner Arntz and Ethel Helen Murray, in Burnstad, North Dakota. Her childhood memories were, in her own words, more about feelings more than specific events-- "the look of prairie and hills, the smell of the air, the stillness of that big country, and the beautiful stones."
The Arntz home was full of life, including Margaret's brothers, parents, grandparents, and several field hands--"drought and Depression era men who had nowhere else to go." Jokes, laughter and tall tales were the evening's entertainment. The Arntzes were also great dancers, and many of them played musical instruments.
In the 1920s, the Arntz family sold all their farming implements on credit, intending to move the family to Oregon. But hard times came to the Great Plains, and the family suffered a major setback.
"[My father] experienced many hard knocks, " according to Margaret. "He could see other men getting wealthy while he was stymied at every turn, although he tried hard."
In 1935, the Arntz family moved to Gardner, North Dakota, where Margaret graduated as the Valedictorian of her class. About this time, a young farmer named Floyd McDonald first spotted the new girl in town trotting along the road on her way to the store. They met several months later, when both were working in Fargo and frequenting the Metropole Hotel bar, "a workingman's place" that was popular with people from Gardner. According to Margaret, they had their first date in March, 1936, and were married on April 10 of that year.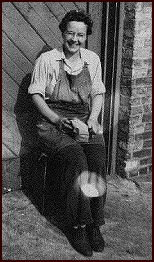 The country was still in the grip of the Great Depression, and the young couple moved with Margaret's parents to Michigan, hoping to find jobs in the shops of Benton Harbor. Their first child, Ruth, was born in Benton Harbor in 1937. Janet was born in 1940, while the family was living in a converted fruit shed with dirt floors.
Frances followed in 1942, and remained with the family despite Ruth's efforts to trade her to a neighbor for a puppy! By then Floyd and Margaret both had full-time jobs at a Venetian blind factory, and they bought their first real house in 1942.
World War II broke out in 1941, which meant lots of work for Floyd in the machine shops around Benton Harbor--as much as 10-12 hours a day, six or seven days a week. The stress took its toll, and Floyd suffered a series of nervous breakdowns, which cleaned out their savings. It was during this difficult period that their only son, Kenneth, died a few weeks after birth in 1943. Half-a-century later, the mention of his name still brought tears to Margaret's eyes.
Evelyn was born in 1945, and the family moved into a larger house. But Floyd fell ill again, and his doctor advised him to get away from the shops.
The family moved back to North Dakota in 1948 when daughter Susan (alias "Little Iodine") was just two years old. They were soon joined by Margaret's parents, Ed and Ethel Arntz. Ed Arntz was diabetic and had lost his sight by then. He died on January 10, 1950.
Initially settling in Grandin, the McDonalds tried raising chickens until they lost most of the money from the sale of their house in Benton Harbor.
In the winter of 1948-49, Floyd's brother Howard mortgaged his farm equipment so Floyd and Margaret could buy a quarter section (the Murdoff farm) near Gardner.
"I think that is the only I place I ever lived where I felt the oneness of the earth," Margaret would write.
It was hard work. They grew grain on the rich bottom land, and the older girls herded sheep in the ditches, including the famous ram "Bucky Boodles," who butted Floyd in the behind every chance he got. Bucky was last seen riding away in a taxi with his new owner, who coaxed him into the car with a Milky Way bar.
Winters were harsh, and during the worst storms, blowing snow would block the windows, so they couldn't tell if it was day or night. The spring thaw turned the thick black "gumbo" to super glue, stopping cars and even chickens in their tracks.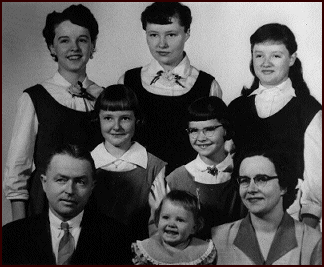 "Living there wasn't all bad," Margaret concluded." We had glorious sunrises and sunsets, blue blossoms on the flax field, wide open skies, the song of the meadowlark and the feeling that God was everywhere."
They also had a heavy debt load, and not enough income from farming to support a family of eight. In 1950, they sold the land in Gardner to spend a disastrous year on a dairy farm in Lastrup, Minnesota.
They returned to North Dakota in the fall of 1951, where Floyd farmed rented land and Margaret worked in a biscuit factory. During what she described as "the worst week of her life," the entire family came down with the flu, the furnace broke down and filled the house with soot, Jan froze her legs walking home from school, and Frankie was rushed to the hospital in Fargo with appendicitis. In 1952, they bought 160 acres of land without buildings near Argusville. The entire family became the live-in maintenance crew at a Catholic High School in Fargo, where Marion was born in 1953. Ruth married Ray Litke on May 7, 1955, and moved to Texas.
Floyd farmed the land between bus routes. The crop was hailed out the first year and flooded out the second. So they put the land in the soil bank, and Floyd followed the harvest with custom combining crews, while Margaret worked at the Grand Recreation Parlor in Fargo.
It was a great relief when they were able to move into their own home in Fargo in 1956. Floyd worked for a construction company while Margaret clerked at various stores. A powerful tornado tore the roof off the house in June of 1957. Marion was struck by a car while crossing the street in the spring of 1959, the day of Evy and Sue's Confirmation.
In August, 1960, they bought "Sunlite Grocery," a small grocery store on Little Floyd Lake north of Detroit Lakes, Minnesota. They worked long hours, since the store was open 15 hours a day, seven days a week.
Fewer hands were available as the years went by. Jan married Jim O'Keeffe on October 22, 1960, and Frankie married Don Trigg for the first time (they would remarry on the same date 20 years later) on June 11, 1963. Margaret's mother passed away in Detroit Lakes on June 21, 1961.
Margaret and Floyd began wintering in Florida in 1964. Evy, Sue and Marion accompanied them on the first trip south, and the two older girls remained in Florida. Evy married Hunt Paulling on June 11, 1966 in Leesburg, Florida. Sue moved to Titusville and was married for the first time on December 22, 1969. The last little little chick flew the coop in 1972, when Marion went off to college in Bemidji, then graduate school in Burlington, Vermont. Floyd and Margaret built a new home in Frazee, Minnesota, but spent more and more of their time exploring the country with a small camper or travel trailer.
When the annual migration to Florida became too difficult, they bought a mobile home and retired to Green Cove Springs, Florida, in 1976. There they remained until the fall of 1996, when declining health brought them back to the Midwest, to be closer to daughters Jan and Marion in Kansas City.
Their 61st wedding anniversary found them apart for the first time, living in separate nursing homes. Floyd McDonald passed away on May 25, 1997.
Margaret McDonald lived a long life and suffered more than her share of personal tragedies. But in her final years, she found peace and serenity in the loving environment created by the Little Sisters of Kansas City.
The prairie rose bloomed despite adversity, producing strong and vigorous branches: six daughters, 15 grandchildren, and eight great-grandchildren. "My proudest accomplishment lies in giving birth to my children," she wrote. "I felt I had a partnership with God. I am so proud of our family of girls."
This biography of Margaret Arntz McDonald was compiled from interviews conducted by Susan McDonald and Ruth McDonald Litke, and from Margaret's own writings.