The Road Less Traveled
May 6-14, 2016
We undertook this trip for the saddest of reasons: to attend the memorial service of my sister Frankie, who passed away unexpectedly on May 3 in Denver, Colorado. I was asked to deliver the eulogy, to which all of my sisters had contributed. I spent one day putting together a Powerpoint for the memorial service, and the next day we got in the Taco Grande and started driving. We had no itinerary except to take frequent breaks, travel secondary roads as much possible and arrive in Denver in time for the memorial service on May 11. From Tucson, it's either I-10/I-25 or Salt River Canyon, so we headed north through Mammoth, arriving in Globe just in time for a quick stop at White House Antiques, where we verified that Vide e Caffe has still not reopened at its new location on Broad Street. Meanwhile, a sandwich shop has moved into its old location on Cedar Street.
As the sun waned, we began earnestly searching for a place to camp, eschewing any of the urban campgrounds close to Show Low, or sites that were too far from the main road so late in the day. We ended up at Los Burros, a former ranger station next to a lovely meadow on a back road between Routes 60 and 260.
Rain mixed with sleet peppered the camper roof all night long, and we woke up frequently wondering what we can do to protect our two 100-watt solar panels from hail damage. Theoretically, they are rated for one-inch hail at 52 mph!
In the morning, we packed up between snow squalls and used ESRI images to navigate a bewildering network of back roads that bears little resemblance to what appears on Caltopo, since local ranchers have locked and gated so many public roads that travelers cannot pass through this area without numerous detours around their sprawling haciendas.
The sun peeked out slowly from behind a backdrop of inky clouds in this land of vast yellow plains pocked with cinder cones on the backside of the Mogollon Rim.
We had packed up in a hurry, with no time for coffee, so began searching for anything resembling a coffee shop or diner that would be open on a Saturday morning in this most Mormon corner of northeastern Arizona. We did a quick 360 when we spotted a coffee shop on the main street in — of all places — St. Johns, Arizona. We ended up spending a good chunk of the morning there, enjoying their espresso and banana bread.
Back on the road again, we aimed generally for El Morro, one of our favorite haunts in west central New Mexico. A break in the weather gave us just enough time to hike around this enormous eruption of rock to the ruins of Atsinna Pueblo. A permanent spring at the base of the rock — one of the few reliable sources of water in the area — has attracted travelers since the 1600s, and many of them carved their names in elaborate script in the soft sandstone.
We camped at the nearby campground which is, surprisingly, free. A docent at the Visitor Center explained that they had determined that the cost of training people to collect camping fees exceeded the potential revenue.
All night and the next morning it was the usual mix of driving rain and sleet. We opted for a hot breakfast at the wonderful Ancient Way Cafe, which appears to be the heart of a very lively and quirky artistic community that has spawned several nearby galleries.
From Grants we decided to take our chances on Routes NM 509 and NM 197, secondary roads that may or may not traverse vast and virtually unpopulated reservation lands. We were relieved to discover that these roads are not only continuous, but paved, and virtually traffic-free, passing through a land of low red and yellow mesas and tormented skies.
At Pueblo Pintado, I saw a sign saying we were only 30 miles from Chaco Canyon, which probably means that access has improved since I tackled a hypothetical road south of the canyon in 1996.
In Cuba, we took a short jog and continued north and east on NM 96, marveling at some of the reddest red rock canyons anywhere in the Southwest, all of them begging for further exploration.
Near Abiquiu Reservoir, we wheeled around when we thought we saw a small sign advertising camping at Ghost Ranch. We got set up in the campground, where we were the sole occupants, treated ourselves to dinner in the dining hall and then set about exploring the ranch in earnest, hiking trail after trail until well after dark. A fantastic place — no wonder Georgia O'Keeffe loved it here!
Rain the next morning foiled our plans to hike to the top of Kitchen Mesa — we'll have to save that for another trip — so we backtracked to the lovely gray-green Rio Chama through Abiquiu to US 285.
The 285 travels generally north through high open country with the gleaming snow-capped peaks of the southern Sangre de Cristo Mountains as a backdrop.
A remarkable presence along this route is San Antonio Mountain, an enormous rounded mound of cinders that towers above the surrounding plains at nearly 11,000 feet.
We stopped for lunch at the Chili Line Depot, a 100-year-old former dance hall in Tres Piedras named for a branch of the old Denver & Rio Grande Railroad that ran from Santa Fe to Antonito.
"
From there it was an easy but uninspiring s;pg through flat farmland to our next important destination: Orient Land Trust near Villa Grove. The main attraction here is a hot river that tumbles out of the Rockies to supply a series of lovely pools in the foothills We've been visiting this remote alpine oasis on every trip through Colorado since 2004, and it's been interesting to observe the changes. We were surprised this time to find the pools mostly occupied by earnest young women in bathing suits reading good books and scowling when we talked. But once the day trippers went home for the night we felt right at home with the usual crowd of chatty old hippies and naturists, and I realized that swapping tales with these characters is one of the things I really enjoy about the hot springs community.
One more good soak and we were back on the road, creeping cautiously over Poncha Pass which was fortunately clear of ice and snow despite a steady drizzle. We cruised into Salida for lunch and dallied a few hours in the lively historic district where there are some great used clothing stores and the incomparable Sweeties Sandwich Shop. US 50 follows the Arkansas River, which was the southern boundary of the US until 1845, which explains much about the unique character of the American Southwest.
We were deep in the mountains my sister Frankie loved, and I was lost in memories of summer reunions at her summer home near Antero Lake, riding ATVs over Tin Cup Pass, hunting for garnets on the hillsides, and singing old John Denver songs until we were hoarse. Ours is a musical family, but Frankie was the only one with a sweet soprano voice, and although she did not read music, she could improvise harmonies on the spot to any tune. She was such a lively, loving person, with my father's outgoing personality and contagious enthusiasm for life. How could she possibly be gone?
We positioned ourselves within striking distance of Denver, at the Cheyenne Mountain State Park just south of Colorado Springs. This is brand new campground with very fancy facilities that were apparently designed by someone who never camped a day in their life. It's situated at the foot of a prominent peak that was once home to NORAD but sandwiched between a housing development and Fort Carson. Although the park is quite large, all the camping spots are bunched together a few feet apart. The bathrooms are large, luxurious and 1/4 mile away, and the spaces are either walk-in tent sites or pricey full hook-up RV sites, with no consideration of the myriad options now in wide use from pop-up campers like ours to teardrops, truck tents and A-frames to car-top campers or people who just sleep in the back of their vehicles like we used to do.
Right around sunset dark clouds settled into the valley below us. The wind kicked up and the horizon turned inky blue. We knew tornadoes had touched down a few miles to the east earlier in the week. It occurred to me that we were, essentially, traveling in a hot air balloon. Then the tornado sirens went off at nearby Fort Carson, and I was ready to drop the top and make a run for it. But the storm stayed below us, and — once the artillery fire at Fort Carson tailed off — we spent a peaceful night and rolled into Denver under clear and sunny skies.
The memorial service was a traditional Catholic mass, whose rituals now feel very foreign to me. My nephew Tim, who drove all the way from Hastings, Nebraska, was the only other member of Frankie's family besides her daughter and grandchildren. At least Tim knew when to sit, stand or kneel. When the time came, like a good Minnesotan, I got up and did what needed to be done, deer-in-the-headlights, reading the words my sisters and I wrote in so much grief and disbelief.
After the reception we got back on the road and drove and drove until late at night, until we were almost to the New Mexican border. In total darkness we felt our way into Lathrop State Park, virtually empty on a week night so early in the year. We awoke next morning to find ourselves perched on a knoll overlooking a glassy lake surrounded by the gleaming white Spanish Peaks. We took a walk around the lake, a big draw for wildlife including raucous red-winged blackbirds, osprey, plovers, Canada geese, mallards, coots, magpies, robins and Western bluebirds. What a great place! It will certainly be a regular stop on future travels in southeastern Colorado.
Raton Pass was steeper than most but very scenic and no problem on a sunny morning (the first on this trip). Rolling south on I-25, we were amazed by the number of antelope. On closer inspection, every light-colored boulder on this broad plain turned out to be an antelope. I guess they have a few to spare, because In 2014, 41 pronghorn antelope from northeastern New Mexico were released in the Sonoita-Elgin area and San Rafael Valley, in exchange for 60 Gould's turkeys from Arizona.
We had accepted an invitation from friends in Edgewood, New Mexico, and of course we figured out a creative way to get there, dodging Santa Fe and Albuquerque by peeling off I-25 and heading straight south on NM 41 through Galisteo.
It was great to share a good meal and a bottle of wine with our old buddies and catch up on their latest projects. After breakfast we continued south on NM 41, aiming to finally spend a little time in the quirky village of Mountainair. Along the way I read a little bit of the history of the area. I knew there were three major pueblo missions in the area, but I had no idea that this area was an important cultural and commercial crossroads beginning in the 13th century based on extraction of salt from extracted salt from dry lake beds in the Estancia Basin. Salt from the Salinas pueblos was traded all the way from Chihahua to Taos in exchange for parrot feathers, turquoise and sea shells.
Now heading west on US 60, we dodged all but a short stretch of I-25, heading for Magdalena and a brief walk-about at the VLA. While Dennis ogled the big dishes, I was enjoying my first good look at the Plains of San Augustin, a treeless 55-mile-long former lakebed astride the northern boundary of the Gila Wilderness. From 1885 to 1970 this dry plain was home to the Magdalena Trail, a cattle route as famous as the Chisholm Trail. Ranchers in eastern Arizona used it to drive sheep and cattle to the railhead in Magdalena. The CCC helped build wells 10 miles apart — one day's journey for cattle and two for sheep. One such well was located at Datil, NM. Today there's a lovely campground just outside of town. It's tucked into a cluster of low hills that erupts briefly from the Plains of San Augustin. The scenery isn't especially dramatic, but there's something so peaceful about the setting. At just $2.00/night with our Golden Geezer pass, it was a ganga deal. We had paid as much as $35/night in Colorado for sites that weren't nearly as nice. There's a three-mile loop trail that wraps around a ridge behind the campground and makes a wonderful sunset hike.
It was the perfect place to spend the last night of a long and eventful trip that opened our eyes to more possibilities for further adventures in eastern Arizona and northern New Mexico than we ever imagined.
Part of the pleasure of traveling around the Southwest is finding great little diners and coffee shops that serve up a little local color with their cappuccinos and scones. We made some great new finds on this trip, and here are a few of our favorites:
We have always regarded eastern Arizona as a bit of cultural desert, so we were amazed to stumble on this great little cafe/bakery right on route 191 in St. Johns, Arizona. The Village Cafe serves up very good espresso drinks with wonderful home-baked goods. And make sure you try the banana bread!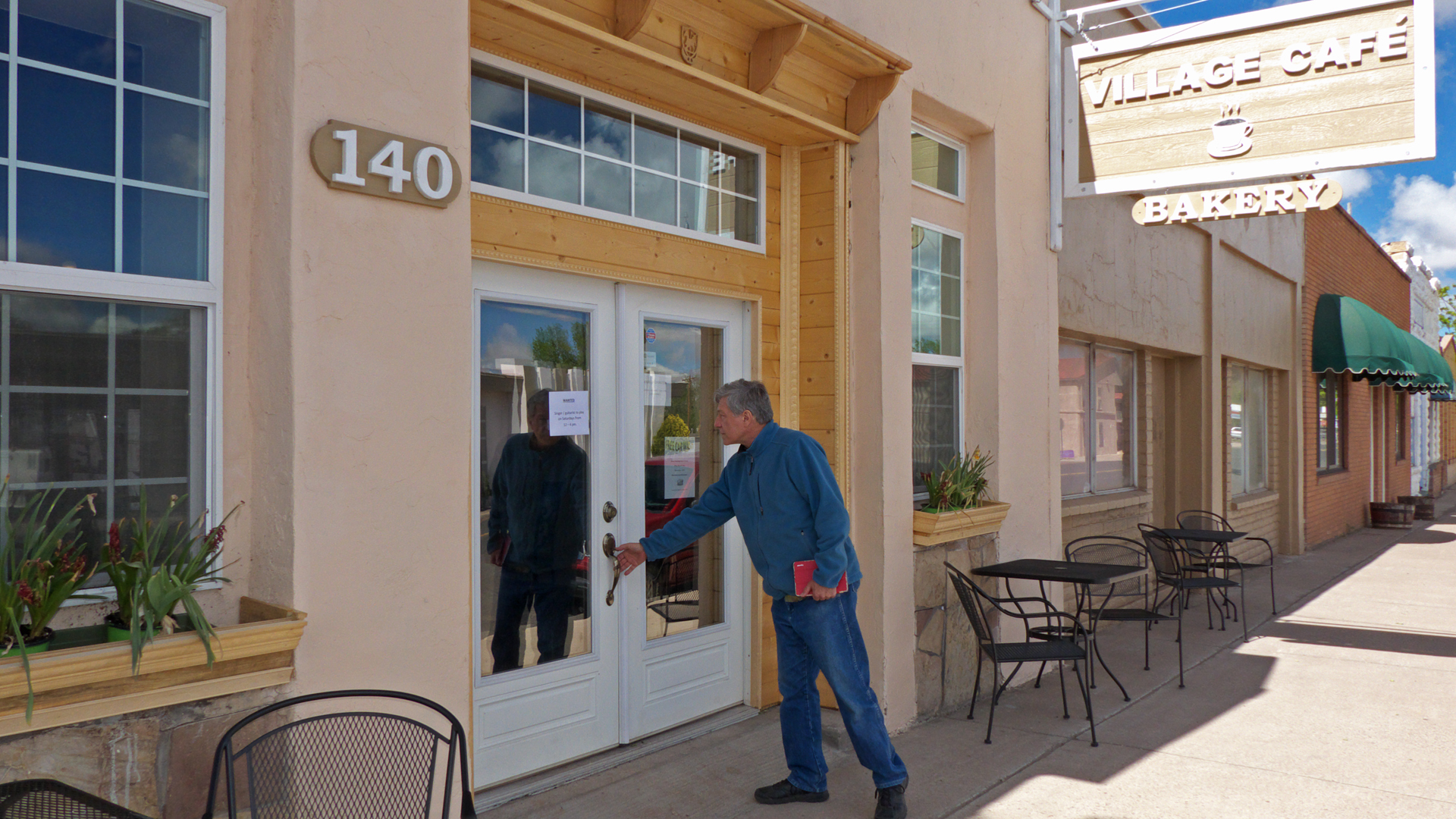 The Ancient Way Cafe is the heart of a lively artistic community near El Morro National Monument. In this breathtakingly beautiful but almost unpopulated corner of New Mexico, the combination of hearty homemade meals, on-site camping and nearby art galleries means we gladly go many miles out of our way to pay a visit.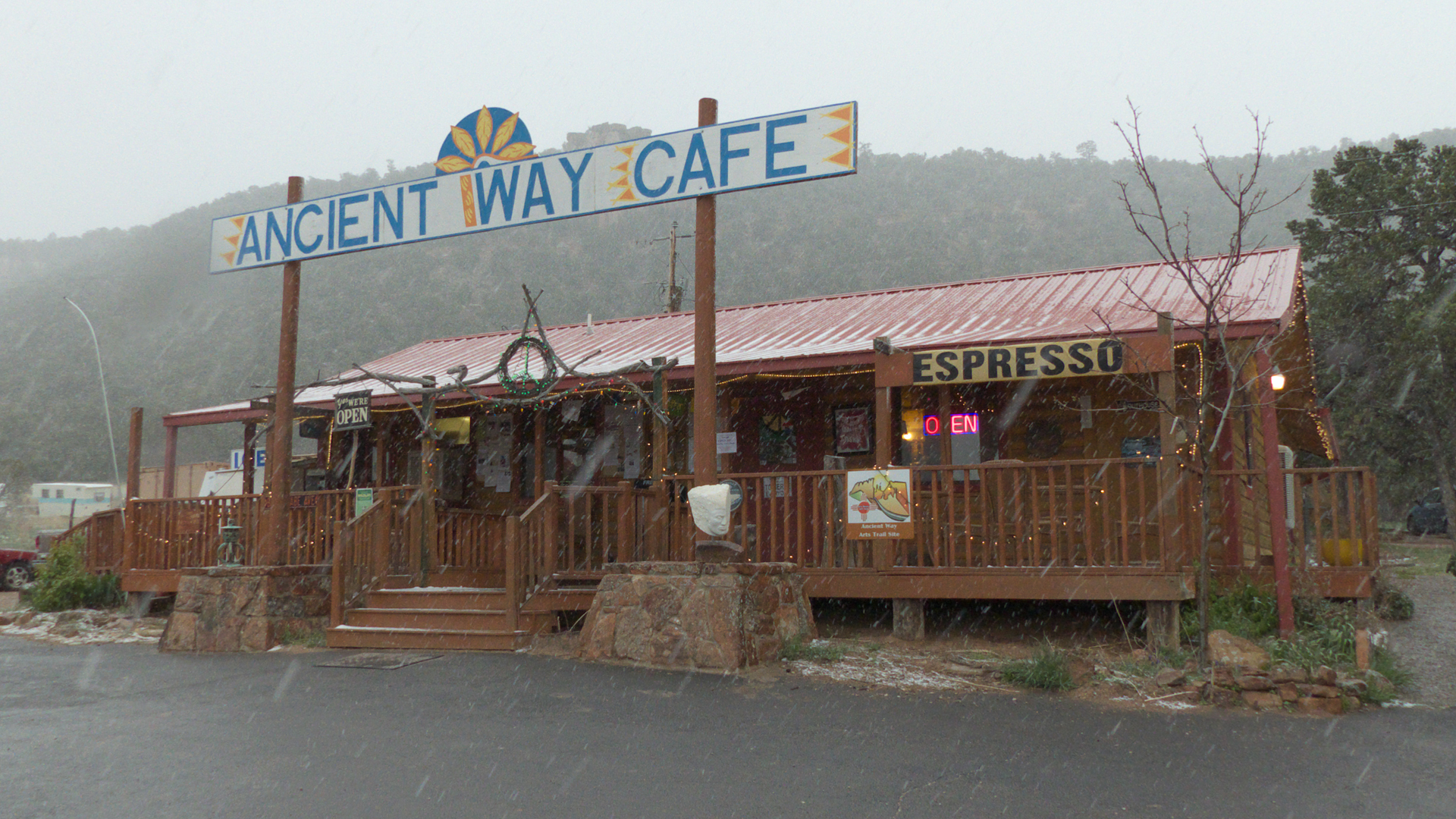 Named for a branch of the old Denver & Rio Grande Railroad that ran from Santa Fe to Antonito, the Chili Line serves home-cooked meals in a 100-year-old former dance hall with jaw-dropping views of the southern Sangre de Christo Mountains.
Justly famous coffee and light meals in a soaring high-ceilinged Victorian-era building on the historic plaza.
Wonderful meal-sized sandwiches and salads served with friendliness and flair in a bustling converted industrial building in the heart of Salida's historic downtown. Our hostess urged me to pick out my tea sachet so it could steep while we finished ordering, then carefully tied the bag to the cup handle. Now that's a class act!