Sozopol and Bourgas
From Plovdiv, we make a mad dash east to the Black Sea, through the most uninspring landscape this side of western Kansas. From the mint-green train station in Bourgas, it's a half-hour bus ride to the small fishing port of Sozopol, and another world.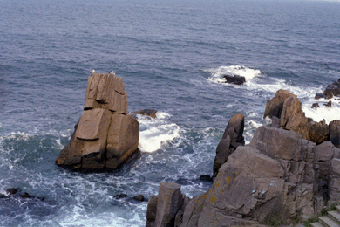 A former Greek colony founded in 610 BC, Sozopol commands a stoney peninsula on the Black Sea, which is not black at all, but aqua blue and crystal clear, with floury fine sand beaches. The water is warm, the bathers are mellow, and the air smells of crushed figs. We spend two blissful days on this perfect beach at the opposite end of Europe, just 70 km from the Turkish border.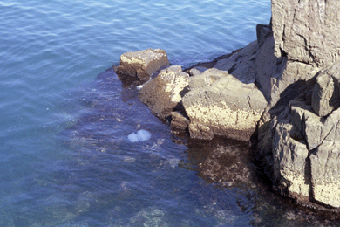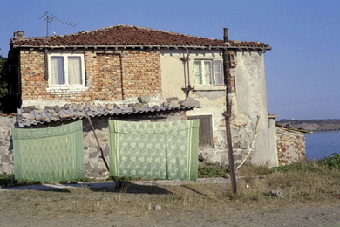 Still pondering the mysteries of Bulgarian telephones (there's one card for the orange phone and another one for the blue phone), we somehow reach Stefan Chapkanov in Bourgas on Wednesday night. We met Stefan, artistic director of the magnificent Stranja folk ensemble, two years ago at Worldfest in Silver Dollar City.
"You're in Sozopol? I'm waiting for you in Bourgas!" he cries. So the next day we join Stefan and the members of Stranja for a performance at a "mountain house" in Bata, in the hills northwest of Bourgas.
We are still partying the next afternoon, and making plans for a possible American tour for Stranja, or, better yet, workshops for American singers, dancers and musicians in Bulgaria!
Like every good vacation, our trip to Bulgaria ends with a beginning ...