Bansko
We thought our trip would be all downhill after Melnik. Instead, we found ourselves in the beautiful Alpine village of Bansko, in a saddle between the Rila and Pirin Mountain ranges.
Keith spots a sign for "NHTEPHET" on a tiny garage, so we pause to pick up our e-mail, within earshot of the donkey carts.
A hot gypsy combo plays lives music every night at the "Barjakova Mehana Gradina." They are so smooth that they can jam at breakneck speed for 45 minutes at a crack, all the while joking, ogling the girls and even picking up calls on their cell phones. But the band has no name and no recorded music!
We'll also remember Bansko for a fabulous "prestilka" (apron) I bought at the ethnographic museum, and because Keith was momentarily locked inside the Sveta Troitsa Church!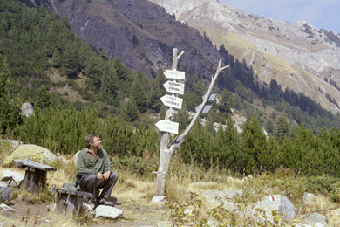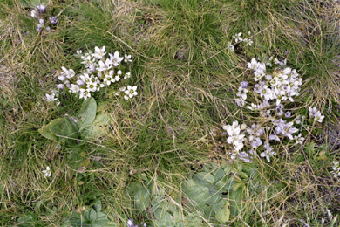 We take a taxi to Banderitsa, where we are within striking distance of Mount Vihren (2914 m), the second highest peak in Bulgaria.
Just above the dilapidated Vihren Chalet is a dreamy alpine meadow, peppered with tiny purple-and-white mountain edelweiss, and traversed by a raucous mountain stream.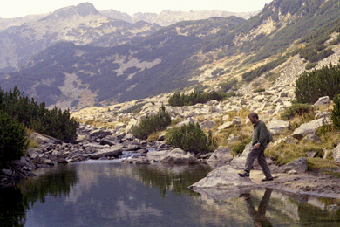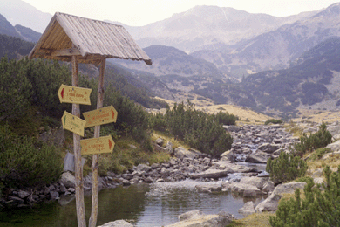 While waiting for the mini-bus back to Bansko, we eat lunch at "Karavana Stravec," just a rough cabin in the Banderitsa parking lot.
But there's a fragrant grill and full menu of fresh salads and homemade soups. That's it! Send us the cats! We're not coming back!
The Train from Bansko to Septemvri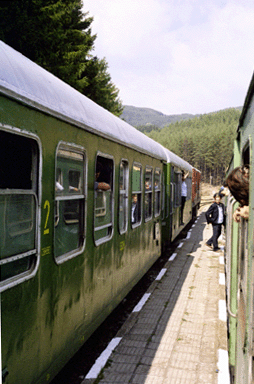 At the train station in Bansko, an old woman dressed entirely in purple comes to say hello. "Is he your husband," she asks, looking Keith over carefully. "Hubav muzh (handsome man)," she concludes.
It's a 4-1/2 hour ride via narrow-gauge railroad to Septemvri, a distance of less than 100 kilometers. We're there for the mind-blowing Rhodopi Mountain scenery, but our wagon mates have other plans.
It breaks the ice when I wrench open the door to the WC, then lurch backwards when I encounter a panoramic view of the countryside in a most unexpected location (it's ... just ... a ... hole).
A retired gentleman fires question after question, aided by a student who speaks a few words of English. Where are we from? Where are we going? Why are we in Bulgaria? What do we do for work? How much money do we make? We respond truthfully, and he launches into a tirade about how he's supposed to live on his pension of 30 lev per month. But then we explain that a beer costs 6 levs in America.
The round-faced "chef du train" joins in the conversation, and although he doesn't speak a word of English, he spends the rest of the afternoon with us, and we wear out the pages of my tiny pocket dictionary.
He has seen a documentary about the San Andreas fault, and is very concerned that California will shear off and slide into the ocean. "Njama problem," we reply. Keith spent nearly two years in jail for feeding homeless people in California. "Bye-bye!"