Uncured Hams: 2006 ARCA Hamfest
Williams, Arizona, July 7-9, 2006
Dennis patiently accompanies me on biweekly backpacking adventures all over Arizona, so it's only fair that I would tag along to the annual meeting of the Amateur Radio Council. It would by my first opportunity to observe this species in a group setting at close range. From living with Dennis, I already knew that, like all primates, HAM radio operators introduce themselves by comparing their equipment. So I wasn't surprised when Al, who pretty much owns the airwaves in southern Arizona, showed up with a stick the size of the Eiffel Tower. Dennis, for his part, sported no less than five antennae on the Taco Ma, which looks more and more like a porcupine. Other Arizona Swatnet regulars accompanied us via radio to the limits of their ranges, like we were heading off to the Crusades.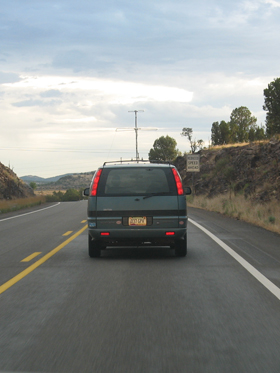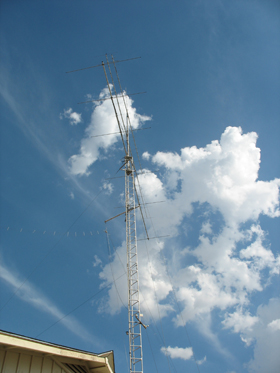 It wasn't long before Jack and Janet in Scottsdale reeled us in with offers of fresh-baked cookies and lemonade. Jack's antenna, shown above, is so tall that it's clearly visible from the 101 loop!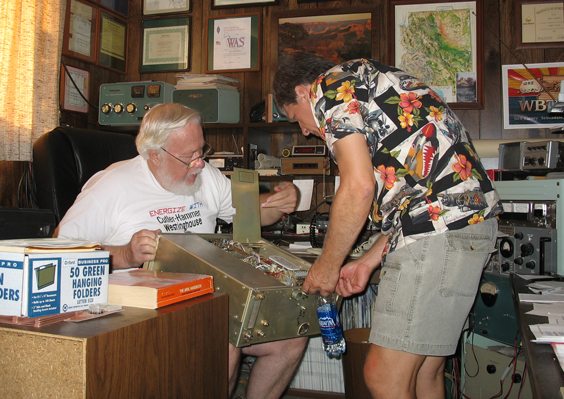 Here's Jack in his very well-stocked HAM shack. Janet's quilting operation is right next door.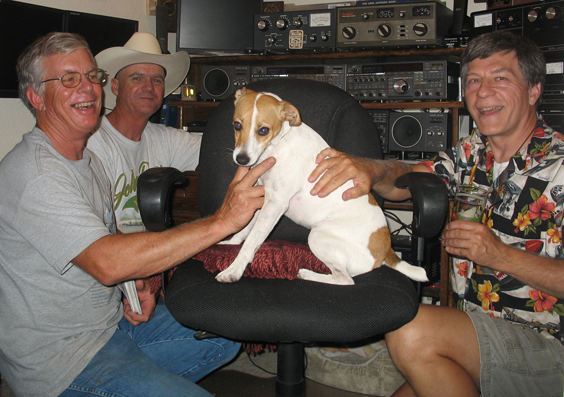 Next stop was Ken's new home in Paulden. With all the rag chewing enroute, it was nearly 10 pm when we pulled into his driveway, so that's where we spent the night. Ken is shown here with Al, Dennis and Joey the dog in his small but superbly well-organized shack.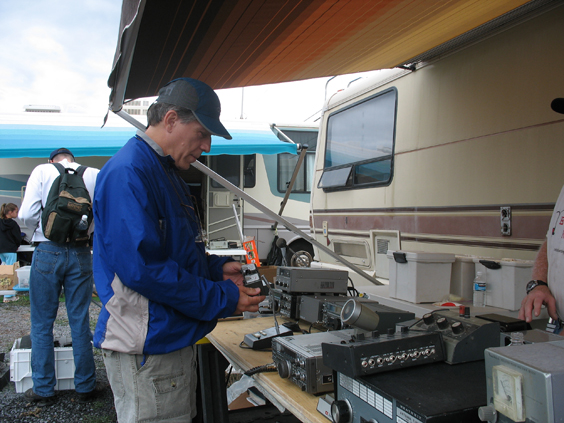 We'd been warned about the dust storms in Williams so naturally we had two days of heavy rain. We pulled out the ponchos and visited all the vendors, who for the most part had simply arranged the contents of their garages on folding tables next to their RVs.
The truck above gets my award for goofiest rig. The best shopper was Al, shown here with his bag of goodies including a decent set of speakers (that Dennis promptly lifted) for $2.00 and a $3.00 soldering iron that kept it together just long enough to stick a makeshift power cord to the back of his two-meter amplifier.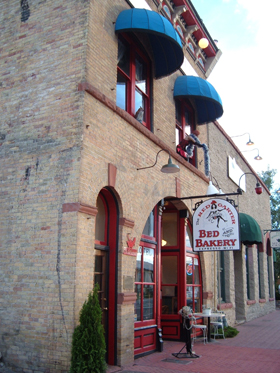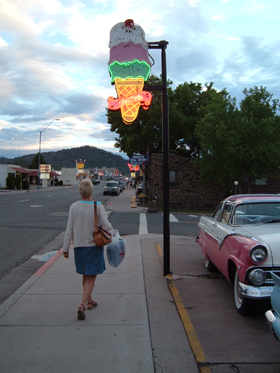 Despite the rain and the light turnout, we had a great time visiting with other hams on and off the air. And after weeks of +100° heat in Tucson, it was heaven to camp in a pine forest with the cool night air tickling our toes. Saturday morning it was "73" and an impromptu hike to Horseshoe Mesa in the Grand Canyon.