Radio Activity in the Chiricahuas
June 22-24, 2007
Every year on the third weekend in June, more than 30,000 ham radio operators nationwide participate in a "Field Day" sponsored by the National Association for Amateur Radio. The purpose of the event is to demonstrate their ability to send messages in many different forms without the use of phone systems, internet or any other infrastructure that can be compromised in a crisis. Using only emergency power supplies, ham operators construct emergency stations in parks, shopping malls, schools and back yards all over the country. Three hams from Tucson decided to test their equipment in a more challenging location: at Rustler Park high in the Chiricahua Mountains.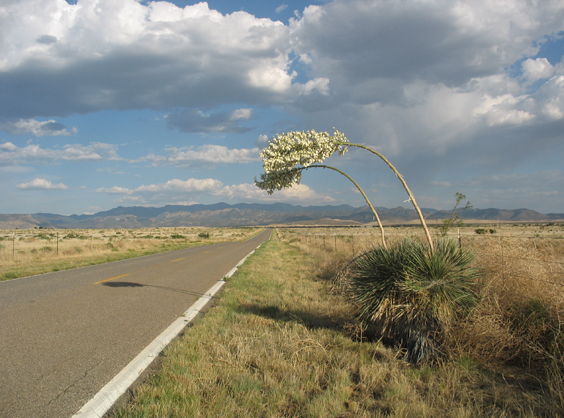 With Tucson temperatures in their classic pre-monsoon spiral, the prospect of spending a long weekend camped under the pines at 8400 feet was not a hard sell. Plus it would give me a unparalleled opportunity to observe hamo electrus at close range.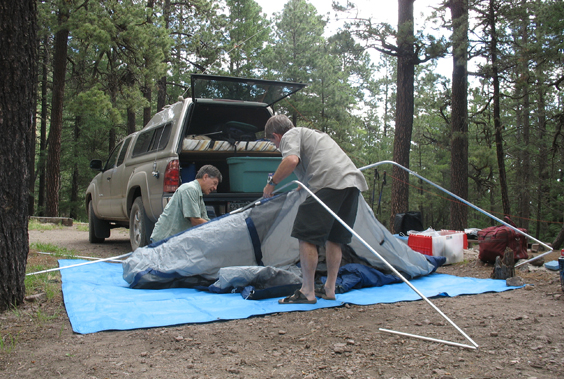 Dennis and his buddy Dave erect a makeshift "ham shack". Believe it or not, although Dennis and Dave have been in almost daily radio contact for more than a year, this is the first time they've met face to face. They debate why Dave's new high tech glasses make everything purple look fuzzy. "Dispersion is a change in the refractive index of a material at various wave lengths," posits Dennis. Dave whips out his PDA and confirms the definition. Dennis surfs the internet with his cell phone and shows Dave where to download an application called, "Pocket APRS." Neither one of them is very excited about the new iPhones. Cell phones with internet capability are so yesterday's news.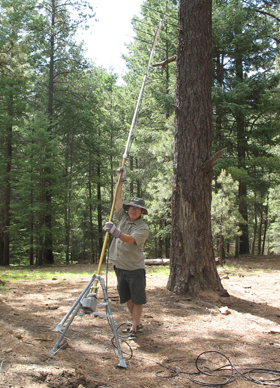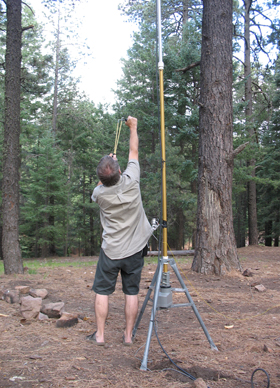 Dave's "portable" ham shack includes a 40-foot dipole antenna and 100 feet of antenna wire. Dave uses a slingshot to fire a fishing line high into the pines, then hoists another 100 feet of feed line. Dennis and Al will string their own colorful cables, weaving an impressive spider's web all around our campsites. As the weekend approaches and the campground fills up, other cars pull in, check out our setup ... and keep driving.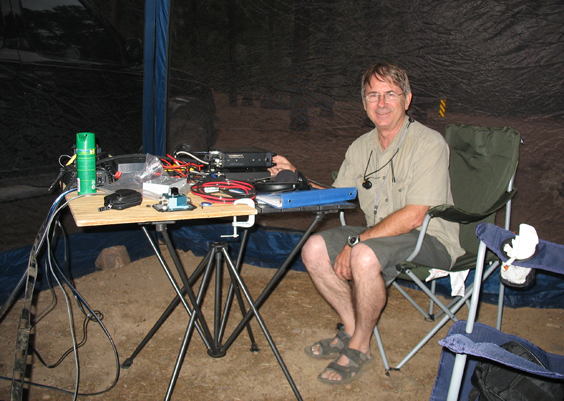 Al arrives Saturday afternoon in a rig that reminds me of George Jetson's flying saucer (with a lot more hay). Between them, Dave, Dennis and Al have 134 years of experience as ham radio operators. So I guess they must have got their licenses when they were, like, two years old?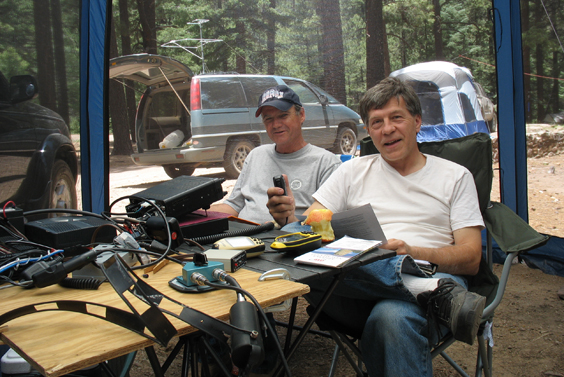 You get extra points for contacts involving remote locations and emergency or alternative power. The boys spend most of the morning trying to find a handy description for three guys with souped-up mobile units and generators camped on a mountaintop, and finally settle for "Class 3A".
Dennis operates out of a truck tent behind the Taco Ma, running a cable through the camper shell and using the tailgate for a desk. The 11-year-old laptop at right is running PSK 31 (whatever that is). We don't want to know what he's doing with Dust Buster and the roll of paper towels.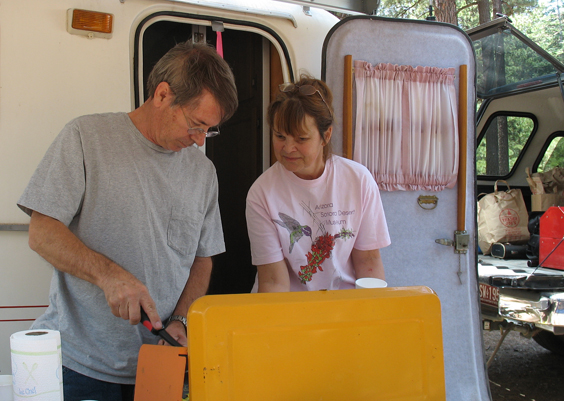 Dave and Adele whip up a big breakfast of pancakes, eggs and sausage.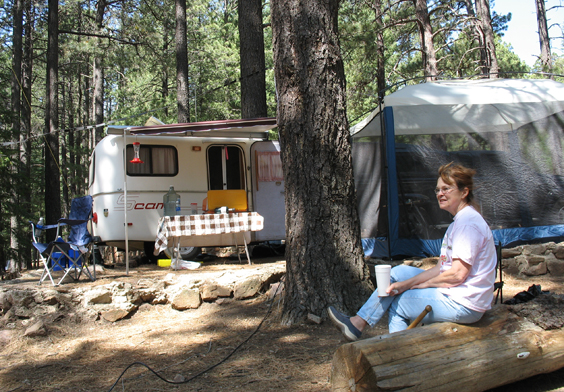 Adele and I stay sane by feeding and photographing the robins, acorn woodpeckers, Magnificent hummingbirds, Stellar's jays and Albert's squirrels.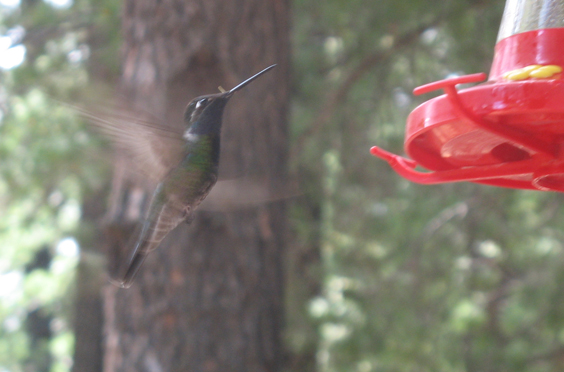 A flock of turkeys wanders through the campground each morning, and they don't mind posing for photos.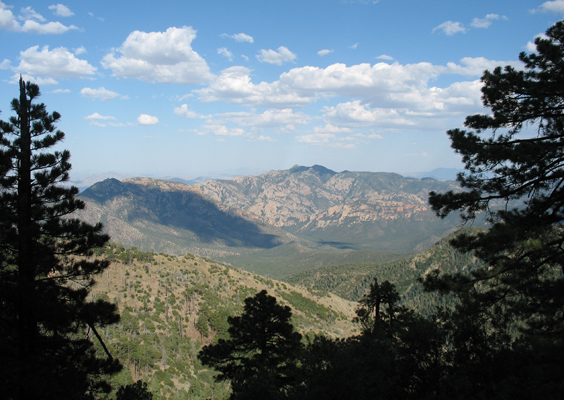 Jim and Jacki joined us Friday for a memorable hike to Fly's Peak, but there was great hiking all around as we discovered during an afternoon stroll to Barfoot Lookout.
A leisurely 1½-mile stroll takes you along a windswept ridge to a rocky knoll just north of Rustler Park.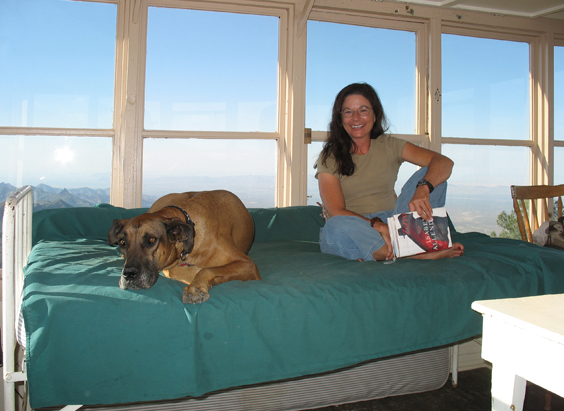 The knoll is capped by a 1935-vintage wooden fire tower with a roof-catch cistern and a 360° view of the Chiricahuas.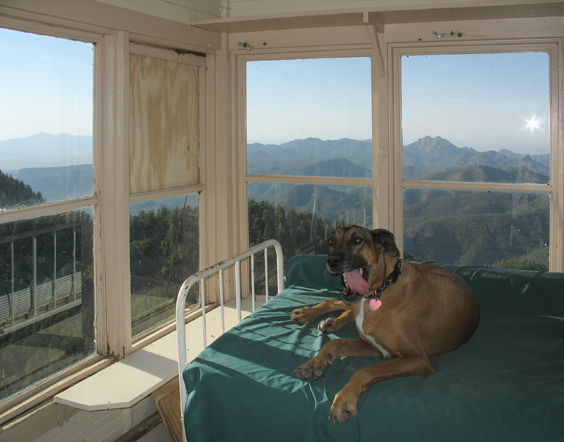 During fire season, Faith and Karen keep an eye on the precious southeast corner of Arizona.
Move your mouse around the photo above to see a little of what they see.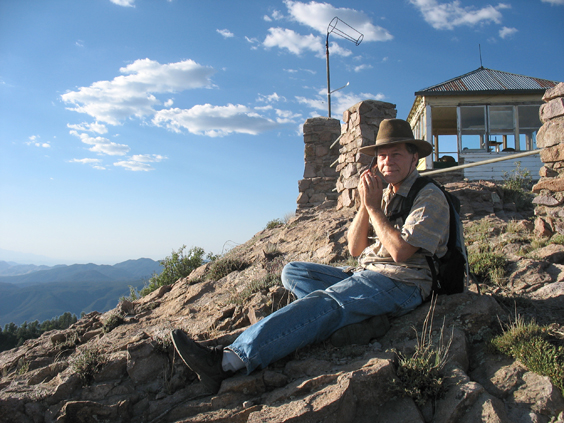 Dennis maintains his balance by hiking with an electronic gadget in each hand, including a cell phone, a digital camera, a handi talkie and a GPS. I'm not complaining, all those gadgets have come in handy more than once. We were just starting Friday's hike along the Crest Trail we heard what sounded like a vicious battle between a dog and a bear. We didn't know whether to dash downhill and join the fight, or run for our lives. Dennis called Dave on the Handi Talkie and found out that it was not a bear, but a bellowing steer. In a wilderness area too pristine for mountain bikes or chainsaws, cowboys can still gallop through a public campground whooping and hollering, rope a steer, wrestle it to the ground and load it onto a noisy trailer.