Exploring the Peloncillo Mountains
December 26-29, 2014
For many years now, every time we cross into New Mexico, I've been gazing longingly at those ragged-top mountains that straddle the state line just north of I-10. Once we actually went so far as to drive the rough gravel road from Steins north to U.S. 70 to get a closer look at them. But access is far from obvious and internet research generally misdirects to a more southerly cluster of small peaks that are also part of the Peloncillo range.
Dennis and I had a nice long break between Christmas and New Year's, so the Peloncillos became a primary target, especially when it occurred to us that we could use the Simpson Hotel in Duncan, our favorite southern Arizona bed and breakfast, as our base of operations.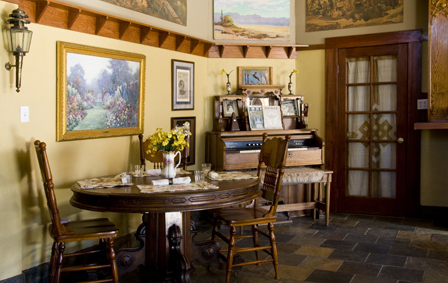 The Simpson Hotel
Dennis became quite excited when he noticed that according to the Summits on the Air, very few of the peaks in the Peloncillos have been "activated", meaning there is no record of a verified amateur radio transmission. So with a makeshift portable antenna, his trusty multi-band KX3, an ARRL flag we found in yet another box of goodies from Bart, and the iPad loaded up with hi-res maps and GPS coordinates for the highest peaks, we set out for the Peloncillos.
Our friend Ann from Silver City signed on, and the three of us met at the Simpson where we began comparing maps and notes.
It quickly became apparent that planning a trip to the Peloncillos was a bit like navigating in a third-world country, where every map shows different roads and different place names. Our host Deborah suggested we might get better information from Doug Barlow, a long-time resident and rockhound who opened a rock shop in Duncan earlier this year.
The Rock-a-Buy on the east end of town was a pleasant surprise, with a splendid collection of local minerals and crafts. Doug has a detailed map of all the back roads in his head and was extremely helpful.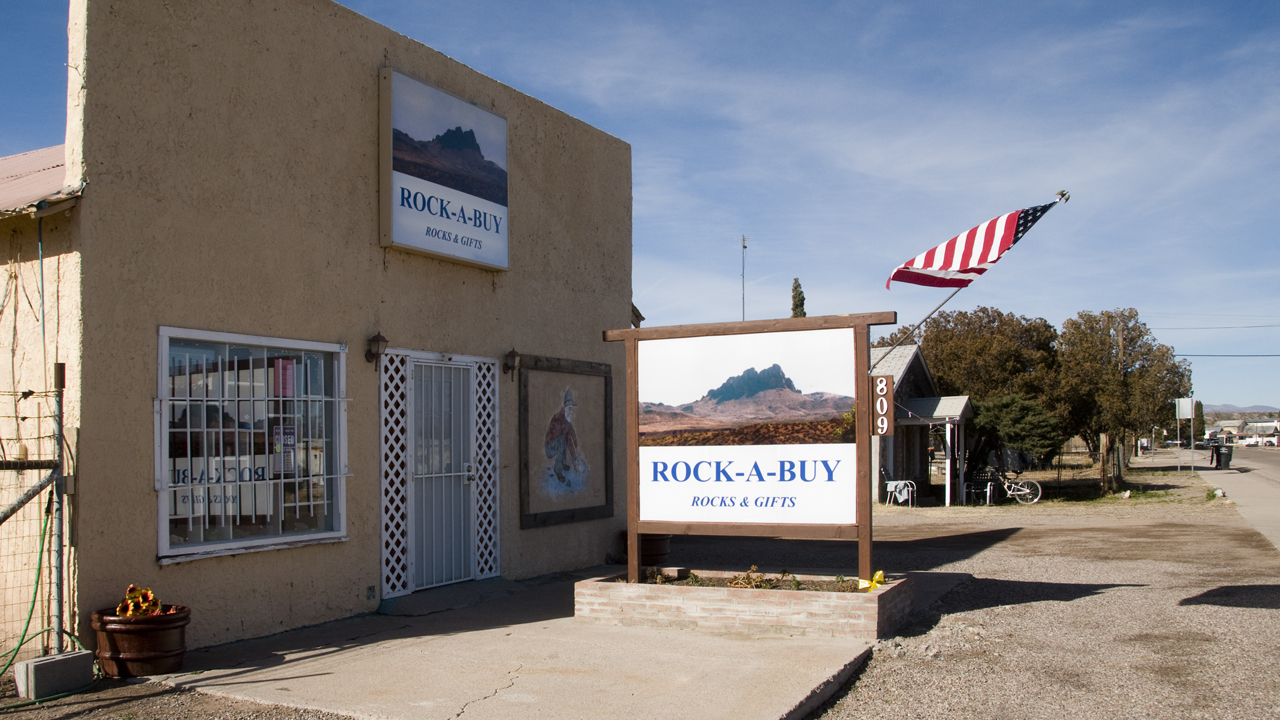 Rock-a-Buy Rock and Gift Shop
Since it was already well after noon, we set our sights on the northernmost peaks of the Peloncillos and headed south out of town on 4th Street, which quickly deteriorated into a bony 4WD track. Where the road splits two sizable peaks, we had lunch and then began slogging uphill through a jumble of basalt boulders concealed by thigh-high yellow grass, and reached the apparent summit of Flat Top Mountain at 5407 feet around 3:30. It was cold and windy with patches of snow all around but the payoff was an almost 360-degree panorama from the snow-capped summit of Mount Graham across the Gila to the equally snow-capped summit of Mount Baldy, and south to the Florida Mountains and Dos Cabezas. From the ridge line it was obvious that Flat Top was actually a curved mesa top worth further exploration on a warmer day.
Meanwhile Dennis raised his antenna and did his best to raise some fellow hams, but was dismayed to discover a post-holiday contest where with five watts he could not make himself heard above the high-powered stations.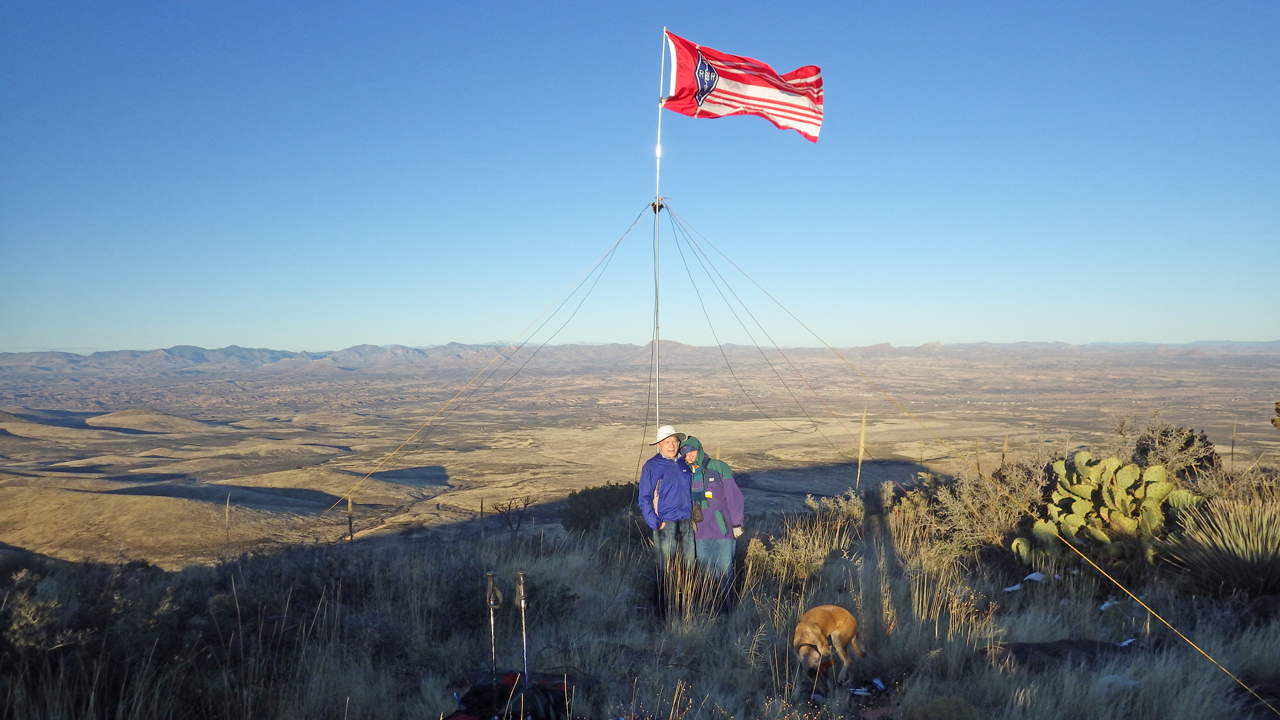 Flat Top Mountain
Our shadows were already getting longer and as always in the desert the temperature dropped like a rock the minute the sun dipped behind the nearest peak. We stumbled down the slope by the light of a rosy winter sunset, arriving back at the truck well after dark, and pointed the TacoMa toward the twinkling lights of Duncan.
Fortified by a fabulous breakfast at the Simpson, we were joined by Sandy, another friend from Silver City, and set out with two vehicles for another possible access via the road to the Lazy B Ranch east of Duncan, childhood home of former Supreme Court Justice Sandra Day O'Connor.
We were aiming for a rockhounding area near Round Mountain, but as expected, navigation based on digital equivalents of 50-year-old topo maps is a very inexact science. Two roads to Round Mountain simply do not exist and the third was behind a "no trespassing" sign at the Lazy B gate.
Undaunted, we simply aimed for the most prominent local peak, a very inviting stony red knob that contrasted sharply with the nearby summits of blackened cinders and chunks of basalt.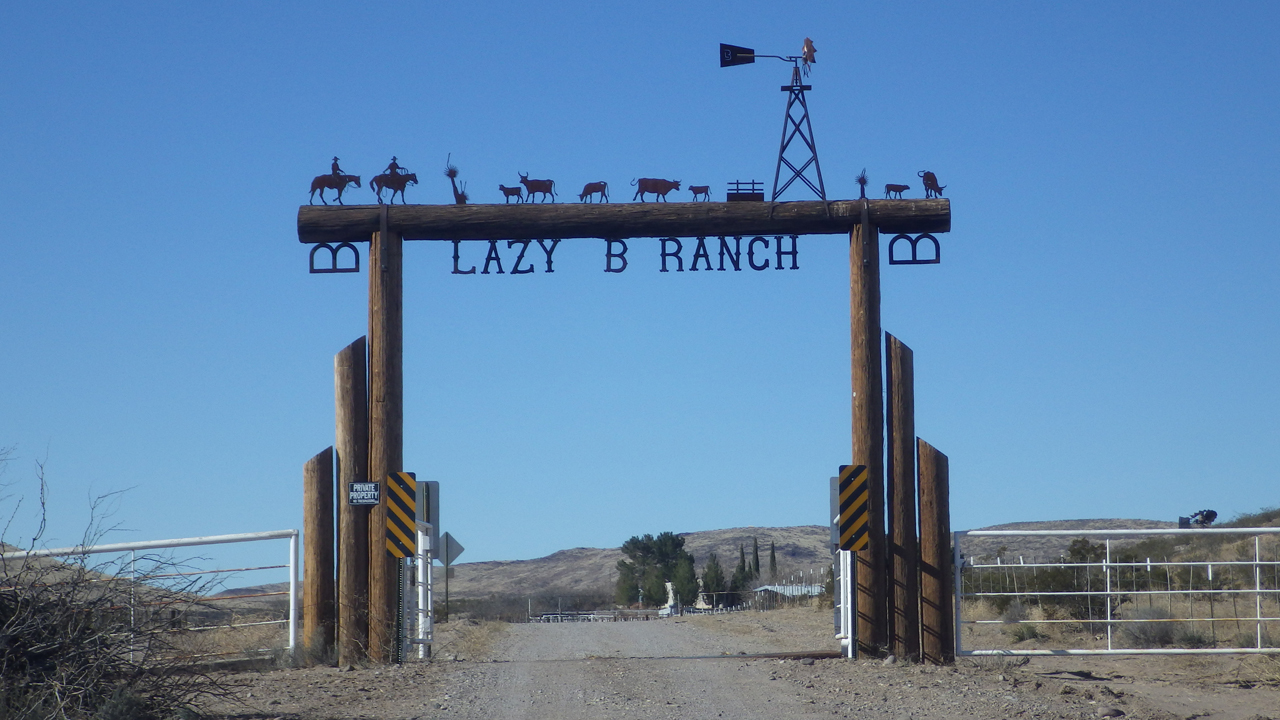 The Lazy B Ranch
We had no trouble locating the benchmark at 4618 feet, but were quickly distracted by the chunks of bubbly chalcedony so thick in some areas that it looked like someone had scattered several dozen bags of marshmallows.
There was a lovely little red-walled canyon at the foot of Winchester Peak, so we followed it a ways, skirting puddles of water from a recent rainstorm and swirls of ice sloughed by the ephemeral stream.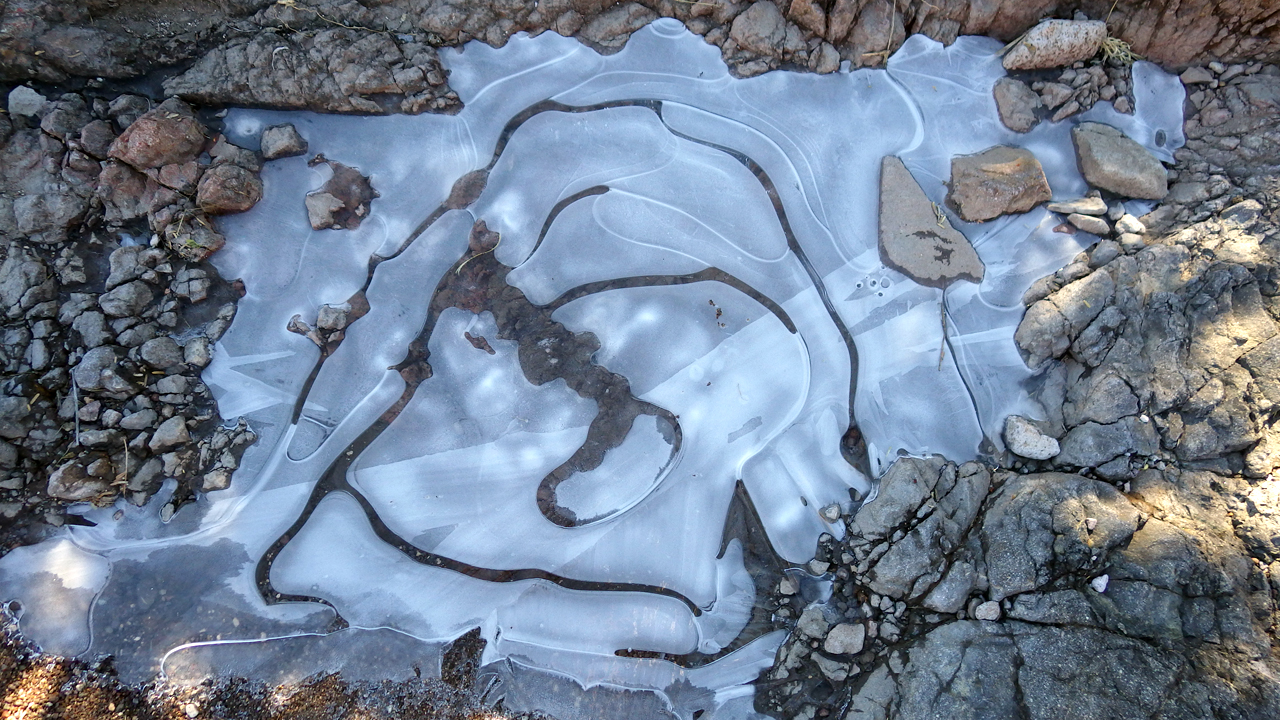 After a picnic in the red rocks we retraced our steps and this veered southeast near Robb's Well, aiming for a pair of low peaks where we'd heard we might find some fragments of fire agate. But the road into Gray Horse Canyon wanders back and forth across a wash, and after a few stints of road construction, we came to a sheer drop that was not to be tackled so late in the day.
Another cozy night at the Simpson, with great conversation around the dinner table, and hosts so gracious they have standing offers for lodging in Silver City and unlimited tech support in Tucson.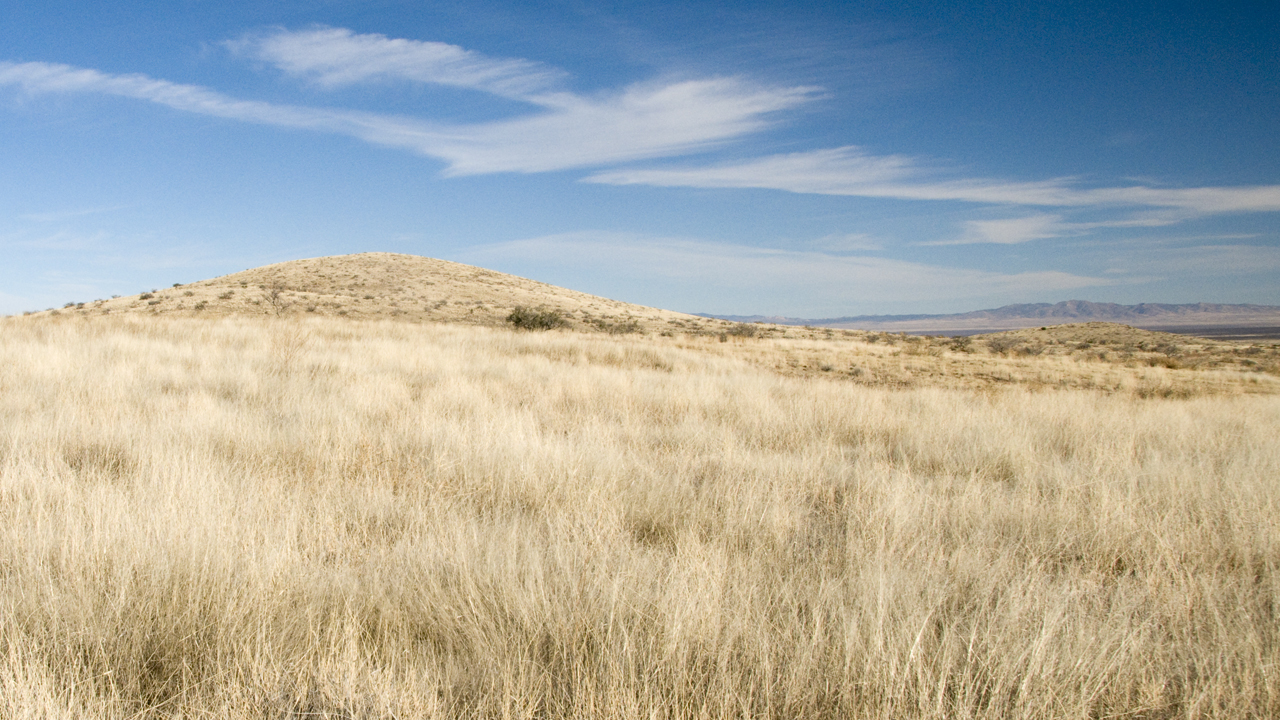 Sandy and Ann headed back to Silver on Sunday morning, but Dennis and I had caught the fever and were determined to try one more route into the heart of the Peloncillos. We headed south past the Lazy B again, but this time we turned left at the fork on a loop round that wraps around two small peaks. The Duncan area is a rockhound's paradise, and this area is apparently well-known to collectors. Some sections were literally paved with small bits of chalcedony, and some chalcedony contains streaks of brown with iridescence typical of fire agate.
Spellbound, we continued wandering among the low golden hills, our see-forever horizon broken only by the occasional cluster of sotol or blue yucca. We were thrilled when some of the higher peaks finally came into view, including the multi-turreted black cinder summit of Engine Mountain, which resembles nothing so much as a giant steam-powered locomotive.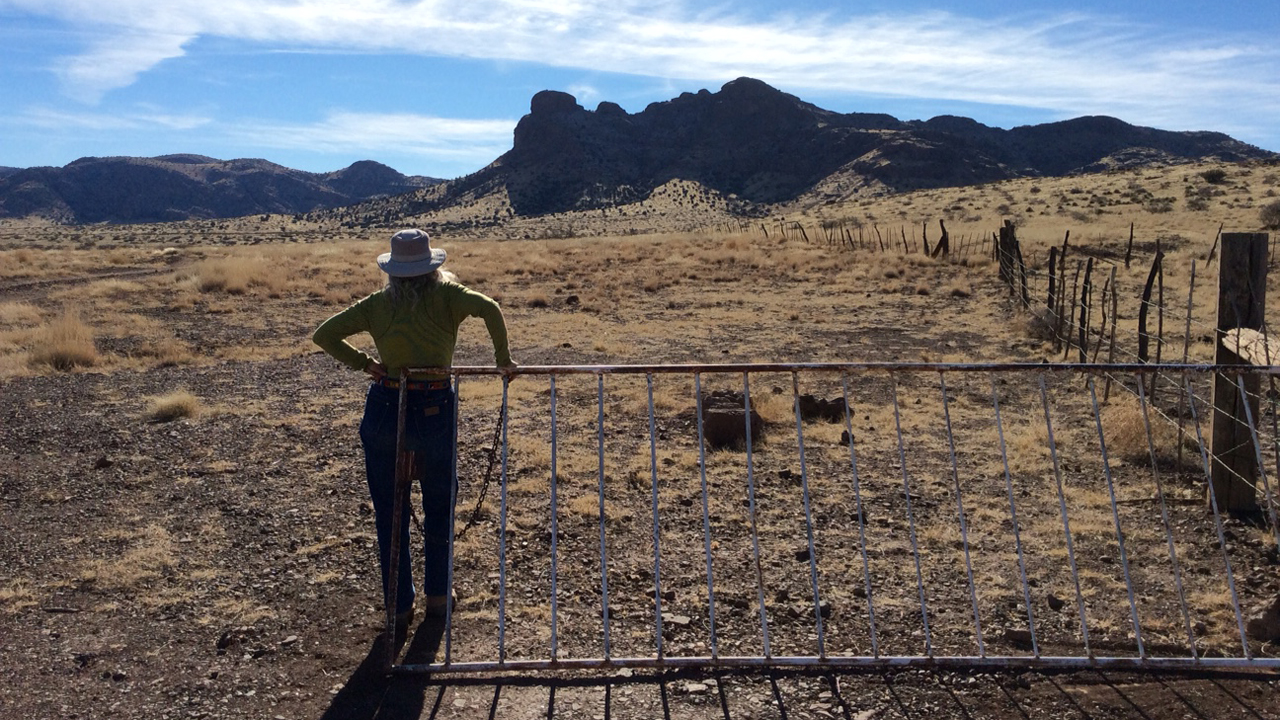 Engine Mountain
We passed by the only possible access to this enchanting area, a faint track that follows Wood Canyon between Engine Mountain and Horsefoot Mountain. Past Wood Canyon, our road deteriorated to a mere rock pile, but satellite imagery showed a continuous track of some sort so we bobbled along another five miles to the ghost town of Summit and a junction with a good gravel road that would take us all the way back to route 70.
Looking back at the Peloncillos, I was stunned to note the distance between the area we had explored and a cluster of larger peaks to the south. After three days, we had only visited a tiny part of the northern section of this vast and varied mountainous area. To be continued!