Mourek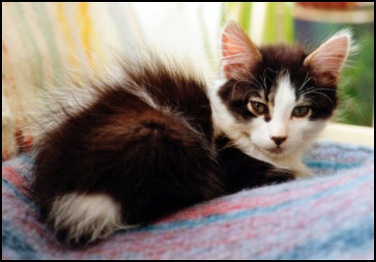 Mourek and I met at the SPCA in Laval, Quebec, the night of the lunar eclipse in October, 1991. I certainly didn't choose him for his looks. He had ears like a kangaroo, huge paws, short black fur and long spikey white fur. He was a mess! But when I picked him up, he sunk his claws into my coat, threw back his head, closed his eyes and purred, "what took you so long??!"
As a kitten, Mourek never walked, he just hopped from place to place, like a wind-up toy! But once he learned to walk and grew into his ears and his feet, he was a big, good-looking dude who tipped the scales at 22 pounds and struck terror in the hearts of the neighborhood dogs.
He loved to play outside and would would gleefully "retrieve" any snowballs you tossed his way. He was fascinated by water, and would chase the drops as they trickled from the tub faucet. And like his chosen human, he liked to fall asleep with a good book.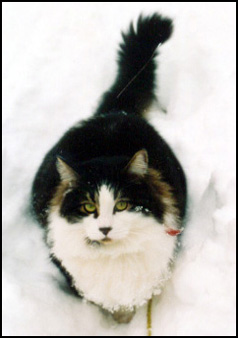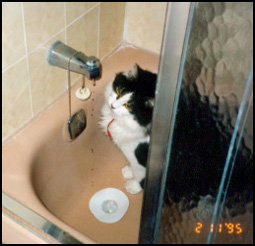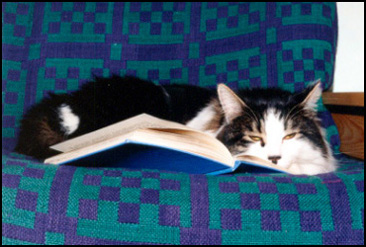 Mourek was born in a clown suit, and loved to delight an audience by striking ridiculous poses or pouring himself into unlikely containers.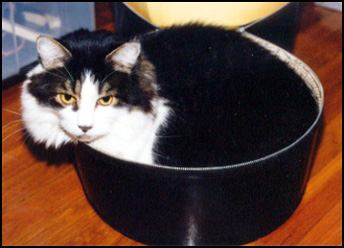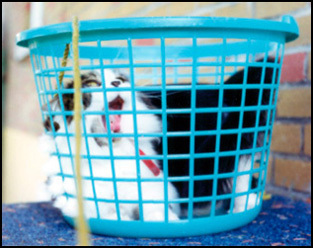 Mourek patiently accepted one new kitten after another into my home, and was a wonderful mother to them all.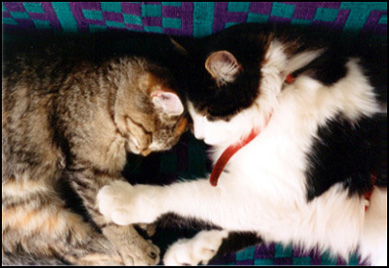 But he loved Smudla best of all. They were inseparable companions for eight years.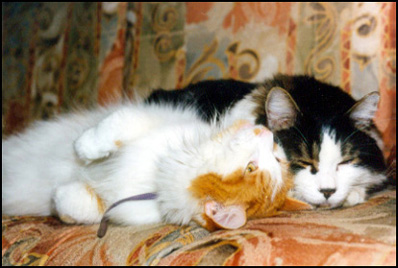 Kansas City Kitties. Mourek and Smudla ruled the balcony at the Columbia.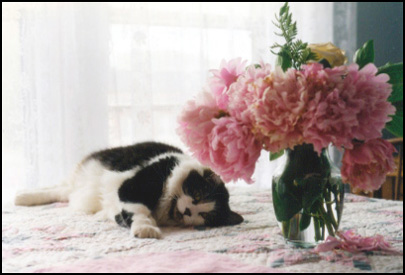 The boys went through a lot together, moving halfway across the country from Montreal to Kansas City in 1996, and then from Kansas City to Tucson in 2001.
In May, 2001, Mourek had the first of several health crises brought on by hypertrophic cardiomyopathy (an enlarged heart) -- a common ailment for Maine Coon Cats.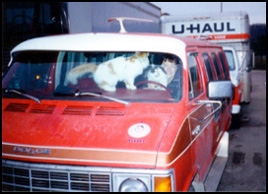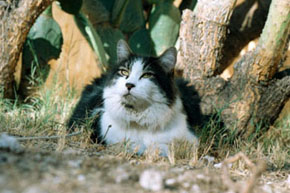 Mourek responded well to medication and continued to have a wonderful life -- as an outdoor cat at last -- with a big, sunny backyard. But the morning of December 20, a stroke left him paralyzed from the waist down, and I reluctantly put him to sleep. He's buried in the backyard, next to his favorite prickly pear cactus, under a pile of shells from the Sea of Cortez. I will miss him more than anyone can possibly imagine.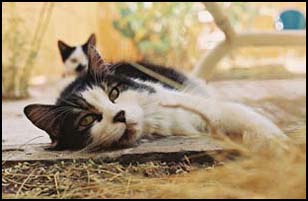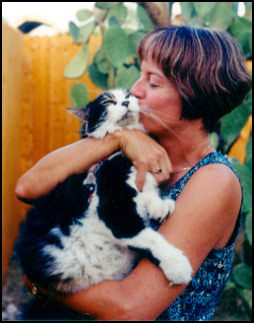 Mourek's Friends Remember Him
I'm so sorry about the best cat that ever lived. What a great memorial for your old buddy.

Jan O'Keeffe, Overland Park, Kansas
I'm sorry to hear about Mourek. I'm sure he's in kitty heaven playing silly kitty games.

Joy Hanshaw, Overland Park, Kansas
I feel sad for you and Mourek. And how many of your friends realize that Mourek is a Czech (and Slovak quite possiby) cat name?

Jan Zacpalek, Cernosice, Czech Republic
It was so sad to hear about our beloved Mourek. You certainly know that he had a special place in our heart and how dear and loved he was. I know you will miss him.

Donna Carlson, Montreal, Quebec
I'm very sad. I don't know what to say except I miss the little bugger already. We're never going to have those hugs again. He was one of a kind.

James Howell, Kansas City, Missouri