Ringbolt Hot Springs and Chloride
February 16-19, 2007
Photos by Dennis, David and Marion
When David invited us to join him and some friends from the Arizona Mountaineering Club for a hike into Ringbolt Hot Springs, we readily agreed (the words "hot", "springs" and "hike" in the same sentence were enough for us). We didn't realize until a few days before the hike that the trailhead is almost in Nevada, just south of Hoover Dam and seven hours from Tucson!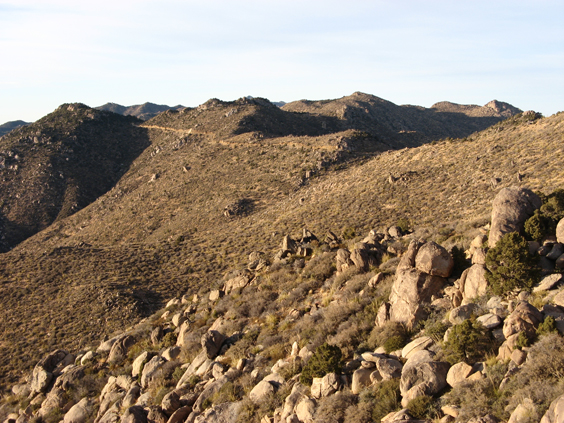 We decided to break up the drive by taking off Friday and meeting David in Chloride. Somehow we all survived Route 93 north of Wickenburg, where very young men in very expensive vehicles demonstrate their intelligence by playing chicken at 90 mph.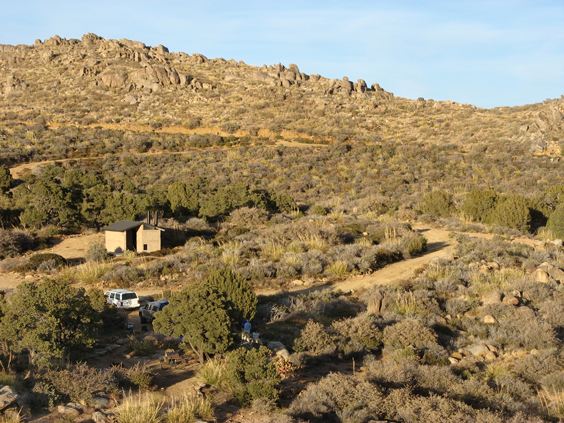 We followed Big Wash Road 12 miles into the Cerbat Mountains above Chloride to camp at the very aptly-named Windy Point Campground. A flock of snow geese poured over the ridge while we were setting up the truck tent.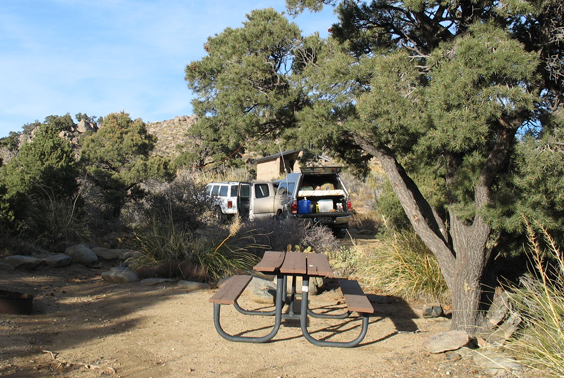 At 6200 feet, it was a great spot to test the IC-7000. Dennis talked to Terry in Tucson on 40 meters on the way up, and later connected with Jim on 80 meters by clipping a 25-foot wire to the whip on back quarter panel. After dinner, there was a regular pile-up on two meters where Dennis talked to hams in Parump, Las Vegas and Landers. He even had a brief conversation with Al back in Tucson, who threw everything he had at us (1000 watts!).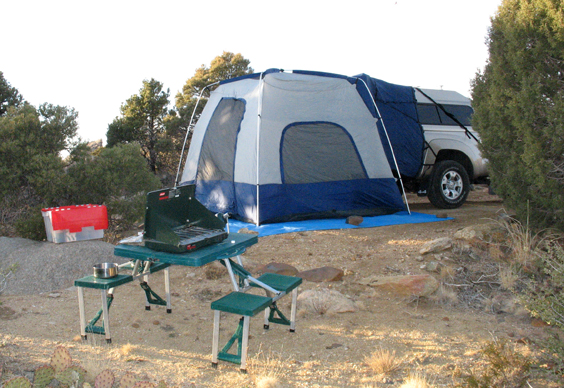 It was also a good stress test for the truck tent. Gusty winds battered it from all directions, making it impossible to sleep. About 4:00 a.m., we decided to take it down before it blew down. When David rolled out of his sleeping bag, he was startled to find us all packed up and ready to go!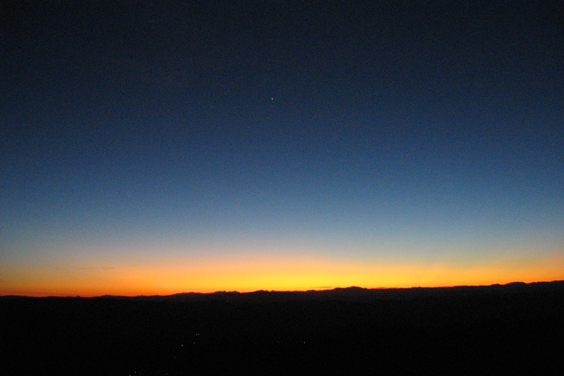 Venus over Chloride at sunset.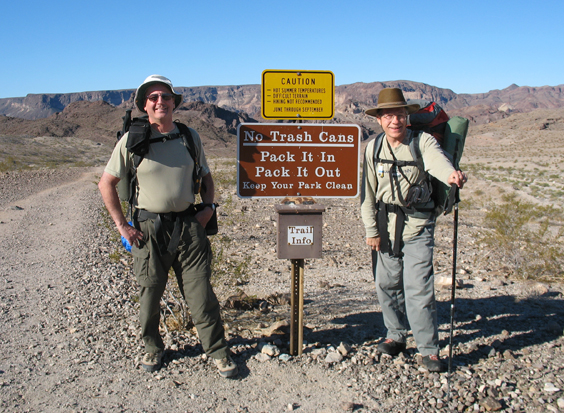 After a surprisingly good $2.22 breakfast at a diner in Dolan Springs, we continued north to the trailhead about four miles south of Hoover Dam. We left the parking lot about 10:00 a.m. under a seamless sky.
The trail follows a wash downhill to the head of White Rock Canyon, named for a huge white boulder that was carried into the canyon by a flash flood. The canyon snakes through tortured red sandstone, black basalt and yellow tuff about 2-1/2 miles to the shores of the Colorado River.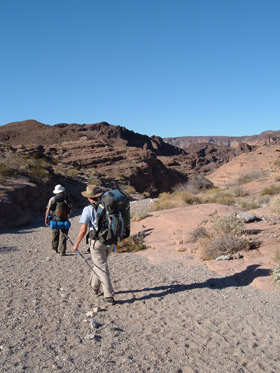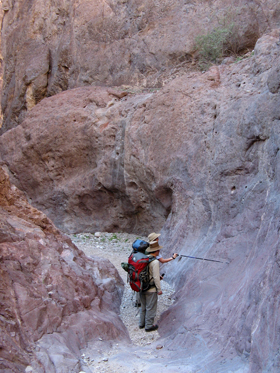 The molten landscape changes constantly, narrowing to a sliver and then suddenly opening onto a broad, sandy plain.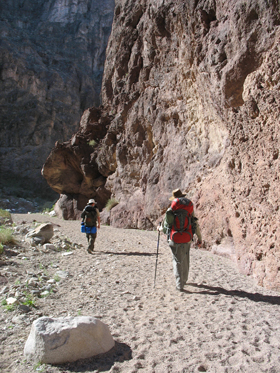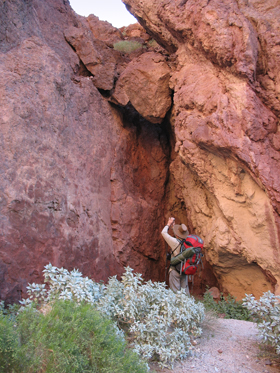 The canyon floor is a kaleidoscope of color, from bone-white boulders to coarse-grained granite with irridescent blue frosting.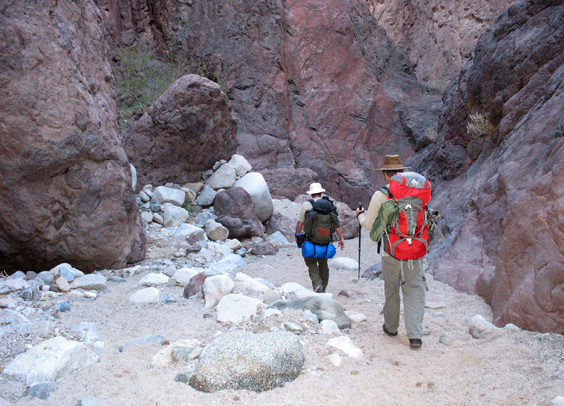 The Colorado River!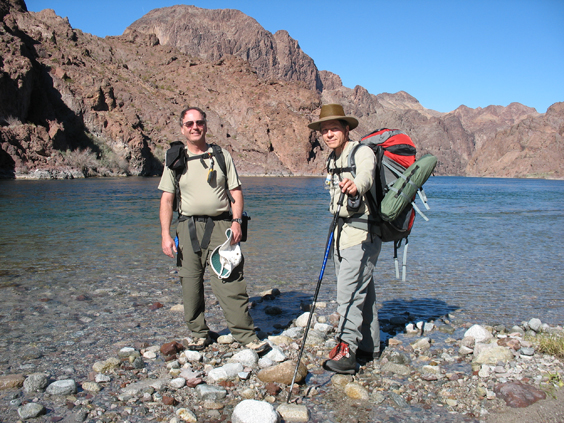 I expected it to be brown and sluggish, but it was clear, bottle green and very inviting.
We groped our way along the shore for another half mile, rounding a couple of ridges before locating the next canyon south and the entrance to Ringbolt Hot Springs.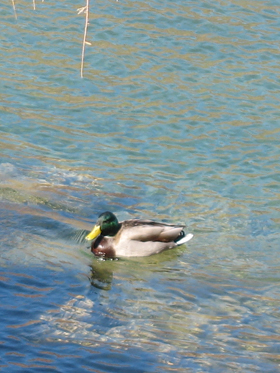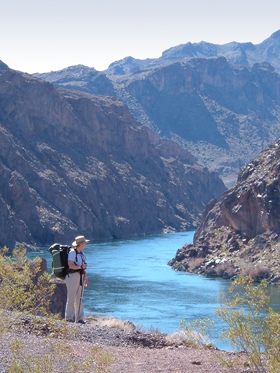 Although the mouth of the canyon is dry, we were soon ankle-deep in warm water.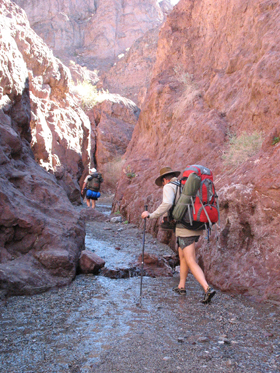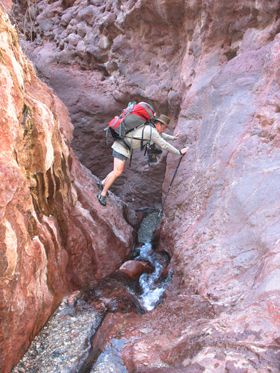 Except for Dennis, who, cat-like, spares no effort to avoid getting his feet wet!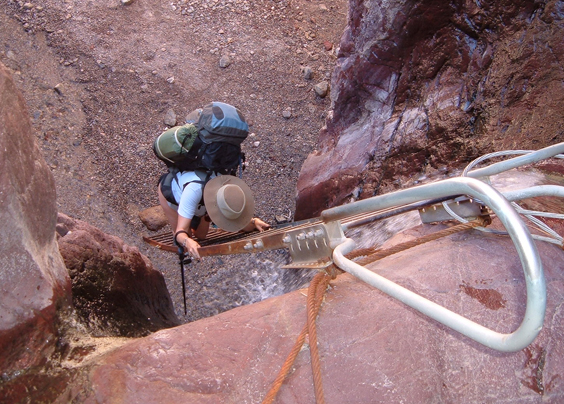 Before reaching the pools, you must climb a shaky, slippery 20-foot ladder. No mean feat with a fully-loaded backpack!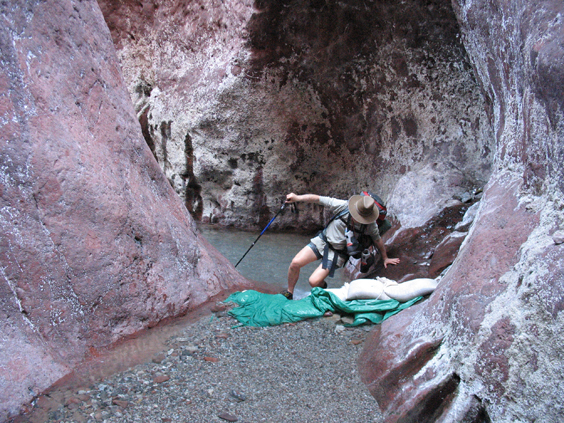 Two or three pools of varying depths and temperatures are maintained by stacking sandbags in the stream. We had the pools to ourselves that morning, but by mid-afternoon (on a holiday weekend), they were knee-deep in boy scouts.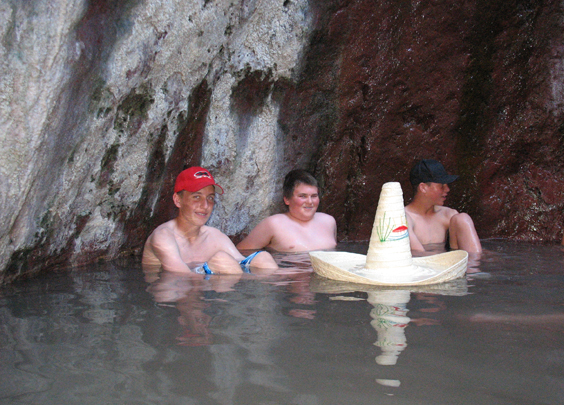 Hey dude, that's sombrero!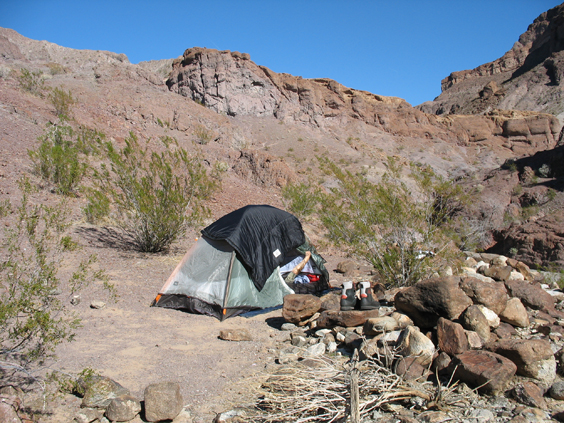 We camped in a large wash above the pools and spent the afternoon poking our noses into various canyons and dipping in the hot pools and the icy river.
View from the ridge above the wash where we camped (tents in the right foreground).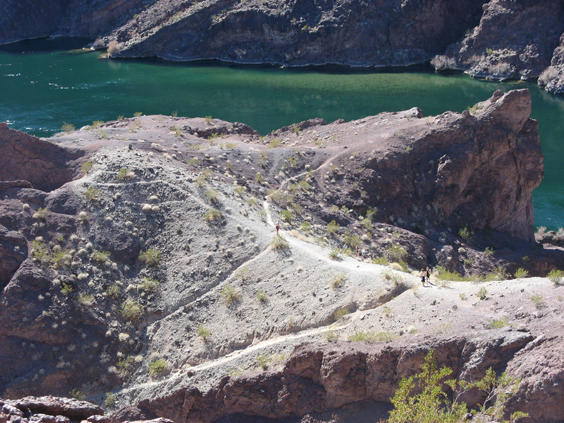 Our co-campers from AMC arrived in time for a late afternoon hike along the river.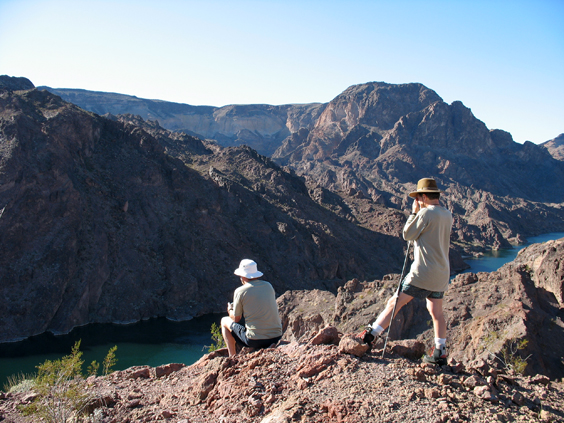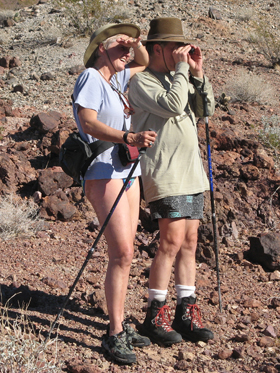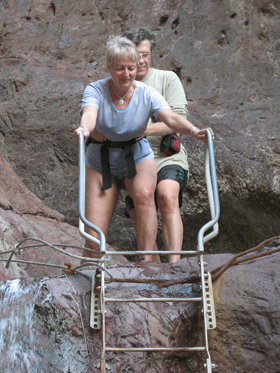 ennis and Marion and the scary ladder.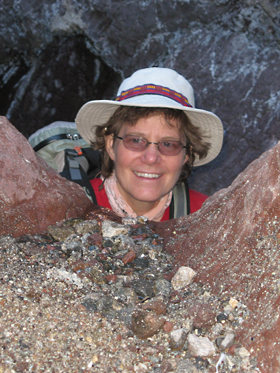 Rogil on the rocks.Tim and Kathy display their haute water couture. It was a perfect night under the stars — so mild that we didn't need the rain fly. In the wee hours, we were serenaded by two hoot owls "pinging" each other (Dennis).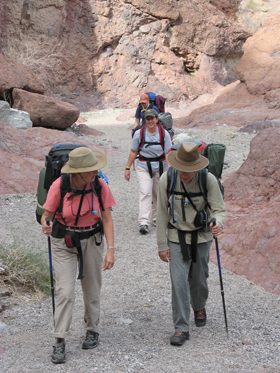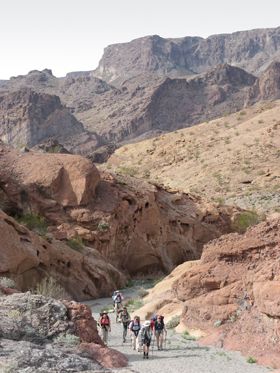 Dawn arrived all too soon, and it was time to herd 'em up and head 'em out.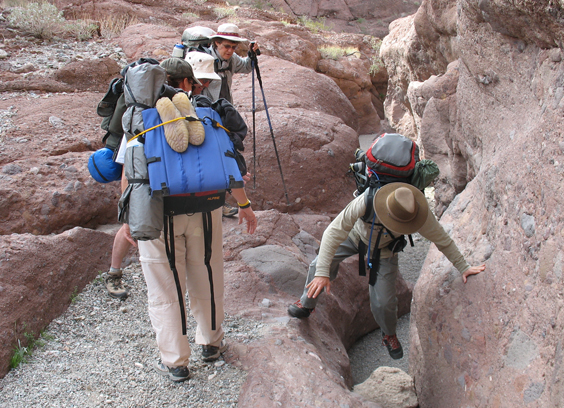 Instead of returning via White Rock Canyon, we continued up the wash, where there were several thought-provoking waterfalls.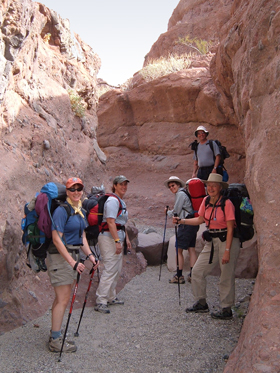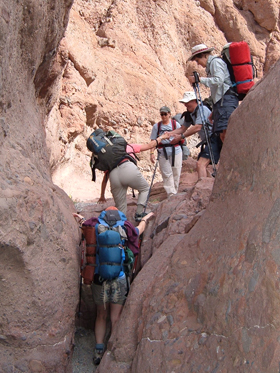 Left to right: Sonya, Nancy, Rogil, David and me.I get by with a little help from my friends (one hand up and two from behind).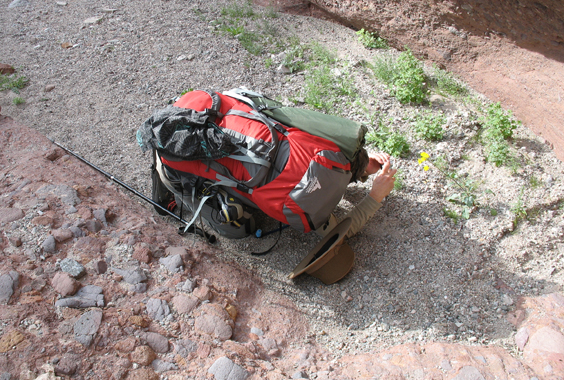 Look closely: somewhere underneath that backpack is my husband taking a picture of a flower!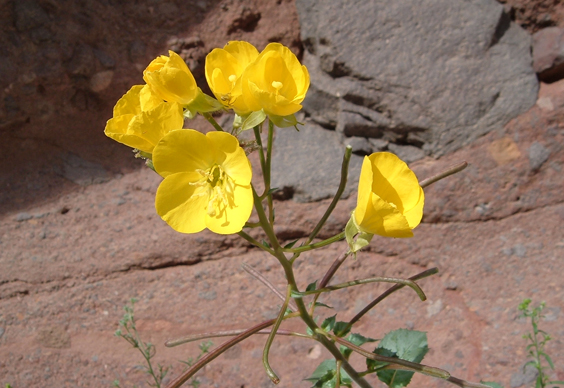 And there's the flower: a yellow evening primrose (Kathy!).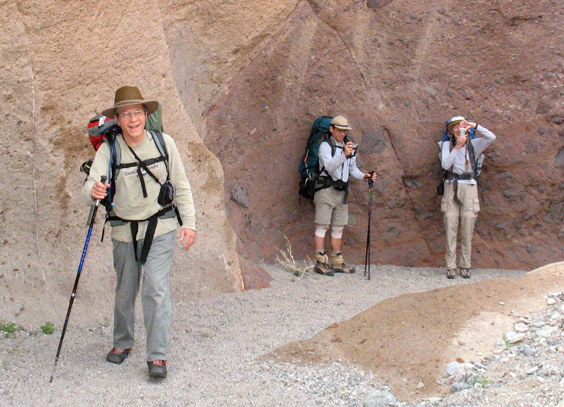 Dennis, Tim and Kathy taking pictures of each other taking pictures ...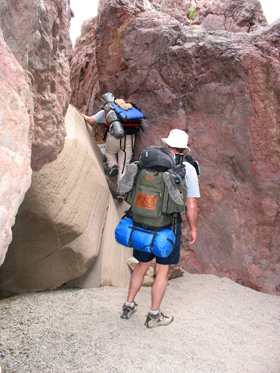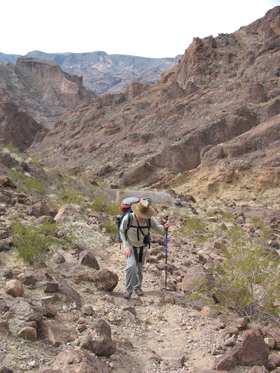 Dennis and I peeled off from the group about 30 minutes out and took the shorter, steeper route out of the canyon to avoid a 20-foot waterfall. Although not as lush as the Sonoran Desert, there were tiny wildflowers underfoot and some nice chunks of malachite and quartz to keep us entertained.
We took the long way back to Tucson, including a side trip to Hoover Dam.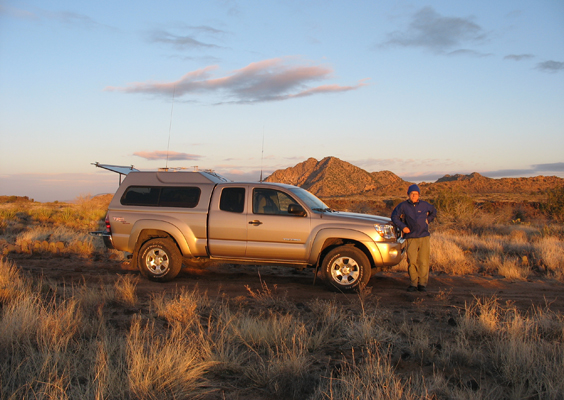 Just before dark we found an unlikely camping spot on a windswept mesa above Bagdad, a creepy little company town with nothing to recommend it but an interesting name.
The drive from Bagdad to Prescott was spectacular, dropping into the Santa Maria River Valley and then climbing well over 6000 feet to follow the old Atchison, Topeka and Santa Fe rail line. Don't miss the Duck Rock near Kirkland!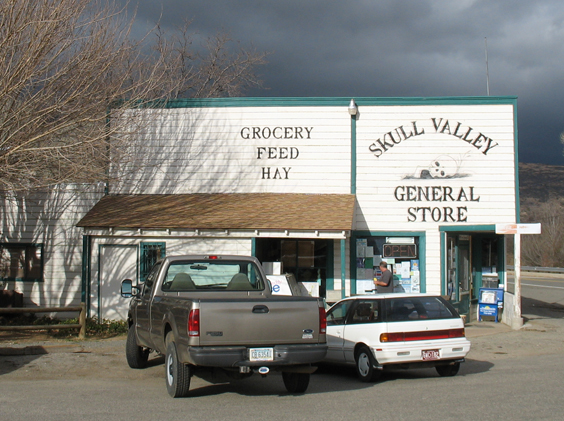 The general store in Skull Valley, whose logo is ... a skull! This trip was a reminder that much of Arizona is still the wild, wild West, and adventure is still possible!